Pulling it out yet again (sometimes literally in this case), the Washington Shakespeare Company delivers a superbly in-yer-face production of Tennessee Williams' study in disheveled lives, Small Craft Warnings. Having turned the bar of the Clark Street Playhouse (yes, they are still there, for now) into a fogbound seaside dive, there is seating for just 40 audience members per show. And putting the actors between the audience and the (theatrical) exit immediately conjures that sinking feeling you get when you venture into an unknown bar and discover, way too late, that you're about to be held hostage indefinitely by the local vampires. It is a clever device and yet, in the skilled hands of director Jay Hardee, we still get the space we need to perform our voyeuristic, intellectual and contemplative duties. Put more bluntly, it's up close and personal, but you needn't fear being dragged out to dance to the jukebox.
With this unsettling proximity electrifying the mood, we watch the night unfold in Monk's Bar as a motley crew of regulars and occasional visitors wrestle their personal demons amid drunken provocations and dramas both real and trumped up. Like a sleazy, dysfunctional Advent calendar, one by one the characters open up to reveal something of their inner workings. Like a carefully structured tabloid full of sordid news, Hardee keeps the underpinnings tight, well-paced and cohesive even as Williams has his characters bouncing off one another like high-energy pinballs one minute and caught alone in a soul-search the next. The excellent result is a repulsive, complex and riveting piece of theater in which no one is quite what he or she seems and none ever escape what they are.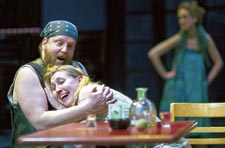 'Small Craft Warnings'
Driving much of the action are the two female patrons: Leona Dawson, a hard-drinking battle-ax from the local trailer park, and Violet, an irredeemably damaged but persistent barfly. Leona has it in for Violet, ostensibly for hitting on her supposed boyfriend Bill McCorkle, but that seems little more than a pretext for whatever it is that irks Leona. Menacing, violent and boundary-less, Leona seems an insurmountable foe and yet, despite her haze of self-abuse and abject fear, Violet occasionally manages some small acts of defiance. Though the men have their own crosses to bear, in one way or another, no one ever gets very far from Leona or Violet.
Despite a rather incongruous sailor's wife costume and a face that shows none of the ravages one would expect from a Leona-style life, Kari Ginsburg has a real handle on this damaged, dangerously people-smart woman. When she's not torturing the losers holding up the bar, she's seating herself with unsuspecting newcomers and wheedling her way into their psyches. Ginsburg's energetic embodiment of this terrible child in an adult's body is absolutely compelling viewing — with the one caveat that she is just too damn loud. Yes, Leona would have a smoker's bellow and, yes, she would be louder than the hubbub of a bar and jukebox if pushed and drunk, but Ginsburg goes way beyond authentic with her volume. Far less yelling and more focus on what kind of accent this woman might have is in order. Ginsburg in quiet (or even just a little quieter) mode is textured, evocative and absorbing and it's a shame so much of her performance is lost to an ear-splitting yell.
Mundy Spears delivers an extremely credible Violet; showing us the outer manifestation of another badly damaged psyche without ever resorting to the usual clichés. She has the rare confidence to go where the character must, whether she is grotesque in appearance, essence or action. The aura Spears creates for this woman resonates long after the evening at Monk's Bar has ended.
James Finley makes for a physically impressive Bill McCorkle, Leona's nemesis and Violet's latest target, but although his performance is capable, he never quite exudes the sleazy core of the hustler. Stronger characterizations come from Brian Crane, who gives his quintessential loser Steve much humor along with some classic Williams nuance, and Christopher Henley whose jaded Quentin explores the darkness beneath a life of unencumbered gratification. Thomas Wood as Bobby, the young man Quentin has picked up but will soon discard, has much quiet presence and delivered his relatively small monologue with particular skill and color.
John C. Bailey is convincing as the unenlightened but not altogether heartless Monk, thriving as witness and father-confessor to the bar's bottom-feeders. And this well-tuned ensemble is rounded out by Joe Palka as the desperate Doc and Erin Kaufman whose delicate Bar Spirit suggests a magic that contrasts interestingly with the gritty reality of the drinkers.
Like any night in the wrong bar, if you get out of Monk's alive, you'll be talking it about it for days after.