Last year, JR.'s Dave Perruzza won the crown for best bonnet — at Freddie's Beach Bar's Easter Bonnet Brunch. Perruzza, of course, knows a thing or two about how to wow with Easter toppers. He's emceed for JR.'s popular annual Easter Bonnet Contest for several years.
But Perruzza says he hadn't actually planned to compete. "I went there for brunch and had it in my car," Perruzza says of his bonnet, which had fake foliage sprouting out of a broken piñata. Only after encouragement from owner Freddie Lutz did Perruzza don his top. And just like that, he walked off with the prize: brunch for four.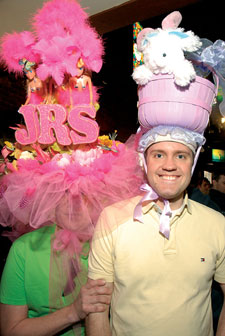 Freddie's Ray Martin knows of many people already hard at work making their bonnets for this Easter Sunday's eighth annual brunch. The staff, who will be wearing bonnets of their own, or bunny ears and tails, will decide on which customer's bonnet they think is the "kookiest and wildest," and award the prize.
JR.'s prize — $250 — is selected by crowd applause. The contest has been an institution at the bar ever since it opened more than two decades ago. "[It's where] all the queens celebrate Easter by going to Church," Perruzza jokes, referring to JR.'s location on the corner of 17th and Church Streets.
The contest is short and sweet, even with a dozen or more contestants. "It's meant to be fast and funny," says Perruzza, adding that last year's winner, Evan Cash, will once again make his bonnet mechanical. (Cash's 2008 bonnet featured one toy bunny repeatedly bumping another from behind.)
Perruzza's not sure what his own bonnet will be. "A friend of mine and her daughter are coming to town for an arts-and-craft day Saturday," he says. "It'll depend on what goodies we find at the Dollar Store."
But Freddie's bonnet-wearers beware: Perruzza plans to have brunch there again this year.
JR.'s Easter Bonnet Contest takes place this Sunday, April 12, at 7 p.m. sharp at 1519 17th St. NW. Call 202-328-0090 or visit www.jrswdc.com. Freddie's Easter Bonnet Brunch happens Sunday from 11 a.m. to 3 p.m. at 555 South 23rd St., Arlington. Call 703-685-0555 or visit www.freddiesbeachbar.com.