Last December, Eboné Bell quit her day job as the advertising manager at the Chronicle of Higher Education. She wanted to focus full time on her event-planning and niche-marketing business.
"I was not built to sit at a desk from 9 to 5 for the rest of my life," says Bell. "It started taking a toll, and I really had to question, 'Eboné, what do you want to do?"'
That question led to a realization: "You're not getting any younger."
At 27, just slightly more than five years out of college, Bell was already having a bit of a midlife crisis — but one that allowed her to harness her ambition.
It's that drive that led to Bell's recognition as a Next Generation Award winner. It's not the first time she's been honored. Last spring, One in Ten presented her with an Appreciation Award, and this April the Capital Area Gay and Lesbian Chamber of Commerce named her Future Business Person of the Year.
"I am honored by the awards," Bell says. "Getting the Next Generation Award is huge. It really does motivate me to continue to do what I do. There are so many ideas that I have for the community that I really want to implement in the next year or two. Sometimes I just don't know if I can get there or not."
Obviously, few others doubt her — and with reason. Bell has expanded the Queer Women's Prom she started three years ago to become an all-welcoming Capital Queer Prom. Last month, it whisked away nearly 300 revelers on a Potomac River boat cruise. Bell is the leading force behind B.O.I. Productions, a company whose acronym stands for "Bringing Our Ideas," is also responsible for the popular women's Wednesday-night party at Fab Lounge, "Ladies First."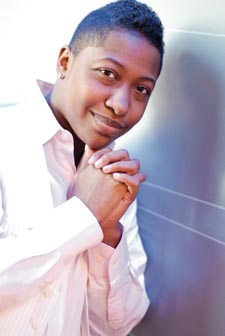 Eboné Bell
And there's still more. Bell has taken on the volunteer task of leading Capital Pride's marketing and communications committee. Next weekend, April 25, she'll co-host and perform at Youth Pride Day, reprising her role from last year.
"I believe when you put a lot out there, you'll get the rewards in the end," Bell says.
Bell burst onto the D.C. scene in 2003, after graduating from the University of Maryland. Her first role was as E-Cleff, part of the celebrated DC Kings drag-king ensemble. Although she's no longer part of the group, E-Cleff has been known to resurface for special occasions.
"As I've gotten older, I've gotten more comfortable with who I am, and really embrace that androgynous look I have naturally."
When she was younger, Bell was more willing to conform to social norms — to a degree.
"I can't say, 'Oh my God, it was horrible, I was uncomfortable," she says about her prom at Montgomery County's Sherwood High School. For the occasion, she wore a dress just like all her friends, to please her parents, and went with a boy.
"I was just going through the motions."
The idea for the Queer Prom came from watching a high school-themed movie and thinking, "It would be really nice if I could relive my prom — wearing a nice tuxedo."
Now, she and hundreds of others get to do it every year. "Second chance" proms are common on college campuses throughout the country, but Bell knows of no other annual event specifically for adults of all ages.
Bell has plans to open a bar for the GLBT community in Montgomery County. She expects Riff Raff Bar and Lounge to have its grand opening in time for Capital Pride.
In one breath, Bell says, "I definitely don't dare take any more on at this point." With another, she talks about her plans with Riff Raff, and also about how she's expanded B.O.I. Productions to include more traditional marketing, even beyond the gay community. She's working now with a new client to drum up more customers through targeted niche marketing.
And then there are her future ambitions.
"I want to create more events that give the same feel as the prom — being able to sit down and dress up, have a nice dinner and dance — but make it more affordable for younger people than other similar events."
Whatever develops, Bell is appreciative of all the support and recognition. "I haven't done this by myself," she says, ticking off especially strong supp ort from her mother, her girlfriend and her mentor.
"It's the support system around me that keeps me going."