Ah, the power of flowers. At a wedding, the bride — or brides — usually holds a bouquet of them. They make a great gift when you're invited to dinner. When your day is done, it's quite likely your mourners will memorialize you in a room filled with them. In that these gifts of color and scent are so often with us to mark special occasions, it's a wonder we ever feel comfortable without them.
As researchers from Rutgers and La Salle universities noted in their research published in the journal Evolutionary Psychology in 2005: "Flowers have immediate and long-term effects on emotional reactions, mood, social behaviors and even memory for both males and females. There is little existing theory in any discipline that explains these findings."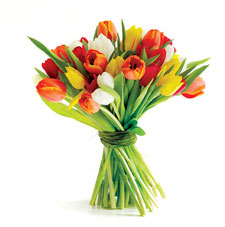 Let the researchers figure out the answers. Meanwhile, remind yourself how much flowers have improved your own mood at times. Surely your home could use some floral fashioning right now — unless you're already one of the wise few who remembers to take time to smell the roses. Then again, if you've never bought bunches of flowers to decorate your home, the process may be a little intimidating. But it needn't be.
"Just let yourself go," encourages Robin Sutliff, owner of Georgetown's Ultra Violet flower shop. "It's an art form. There's no wrong or right. Be guided by your instinct. You can be inspired by a color, a particular flower…. Then go from there. A lot of times, people are afraid that some flowers don't go with others. Anything can work together."
How much more permission does one need to indulge in the modest luxury of cut flowers, particularly as the weather changes and our human instincts twitch with the possibilities of springtime rebirth and abundance?
There are, of course, some simple steps to follow. No one can tell you what color, fragrance or texture might suit you, but Stephen Robinson, owner of Bloom Fresh Flowers in Alexandria can advise you on how to get the most of cut flowers.
"The best way to make them last is to pull them out of the vase, snip a little more of the stems and change the water," he advises. And make sure those snips are at an angle for maximum hydration. A tiny bit of sugar can help nourish your flowers. "And about half a teaspoon of bleach. It's like a preservative. With flowers like daisies or tulips, I use rubbing alcohol — about half a teaspoon to a gallon of water."
Sutliff adds that the dash of bleach will help to keep the water clean, too, though the water should still be changed every three days. "The flowers like a little perk," she says.
Moving back to the artistry of setting up your display, both Sutliff and Robinson encourage the layperson not to fear a branch or two.
Sutliff suggests cherry blossoms as a great early spring inclusion for Washingtonian flower displays, even if she's so allergic to them she'd rather not look at them.
With woodier elements, such as cherry blossom — or quince or pussy willow, for example — Robinson says it's out with the angles and in with a blunt object.
"If it's a woodsy stem, you should smash it with a hammer," he instructs. "It opens up a vein."
The smashing may help alleviate the stress of the day, but flowers themselves can do so much even without the violence.
"With a burst of color and scent, it lifts the spirits without you even noticing," Sutliff says of people's reactions to flowers. "I have people who come into the store every day, just for a lift. They might get just one bloom, but it means something to them."
Bloom Fresh Flowers is located at 625 S. Washington St., Alexandria; 703-299-9929.
Ultra Violet Flowers is at 1218 31st St. NW; 202-333-3002.