It's not easy for most, stripping down to your birthday suit with a group of strangers.
"It was very uncomfortable for about 10 minutes," says Marlon Fixico, 51, a gay Washingtonian, discussing the first time he took part in a Body Electric workshop. That was back in 1995.
"There's only so long you can look at a dick until they all look the same," he says. "I mean in different shapes."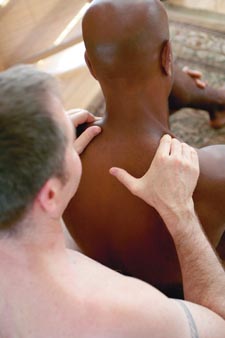 Body Electric
For those unfamiliar with Body Electric, it's a weekend workshop available to D.C.-area men 18 and older at a residence in West Virginia. It will be held from May 15 to 17 and costs $595 (including room and board). Fixico, who's helping to coordinate this year's event, describes it as an "erotic, sexually healing workshop."
Bob Findle, 51, owner and school director of the Oakland, Calif.-based Body Electric School, says it originally started as a massage school, but shifted gears toward a more erotic offering in the '80s when the AIDS epidemic first hit.
"Body Electric did arise out of those years when people were totally terrified to even breathe on one another," Findle says. "Now we're much smarter, [but] we still have the same goal, which is to help men and women achieve levels of intimacy and connection that they may not be able to do and be erotic with one another."
That entails undressing, working in pairs and hugging, caressing and massaging. How do you know if you're ready for that much intimacy with a group of strangers? Fixico says you're ready if "you're in a place where you're not satisfied with what is, and you're spiritually open for whatever." He traces his own introduction to Body Electric to a recommendation from a "new age-y" friend.
"My impression always was that it was older, predatory men, looking for young boys to molest," Fixico admits. But that myth was debunked when he found himself able to use the experience to combat some personal demons. A Native American from Oklahoma, Fixico explains that when he was a teenager, his father became a Southern Baptist minister. As a result, Fixico spent his adolescence in a very restrictive household. It had a lasting effect.
"Previous to Body Electric, all of the times that I had sex, I was drinking," he says. "So there was a lot of shame associated with having sex with other guys. I knew that my head was screwed up when it came to being gay and I was looking for answers. I didn't know exactly what the questions were, but I was looking for answers."
He got his answers, and it only took one Body Electric workshop.
During a session called "Full Body Orgasm" — which he notes is neither about nor includes ejaculation, but instead explores "alternate states of sensual awareness" — he was lying on a massage table, enjoying the ambient music when there it was: a moment of enlightenment.
"I was just laying there exhausted and I felt this sense of God, that God loved me just the way I was: fully gay, fully sexually expressed."
Speaking to other men who participate in Body Electric workshops, Findle says he often hears the same sort of testimony.
"In today's world, we're so connected with the Internet, with iPhones, with texting and sending pictures, we're so electronically connected, but yet so many men feel so disconnected because there's nothing there…that basic one-on-one human connection. It's kind of hard to get."
Findle says Body Electric is designed to help men make those connections, in addition to working to diminish "isms" — "racism, ageism, HIV-ism, or fat-ism."
"Our pleasure is derived from massage, touch and connection," he says. "We teach people that you can have this pleasure with anybody really. You don't have to marry that person. You don't have to think, 'Oh, here's my ideal, I want Brad Pitt.' Everybody wants Brad Pitt, but maybe Brad Pitt is not really what you need. Maybe what you need is this guy across the room, whom you are not necessarily attracted to, but this man could have the best touch in the world and bring you some great pleasure if you just let yourself go there and not have all these barriers up."
To sign up for the Body Electric Workshop in West Virginia, Call Marlon Fixico at 202-256-7836, or e-mail nativetouchDC@gmail.com. To learn more, visit www.thebodyelectricschool.com.