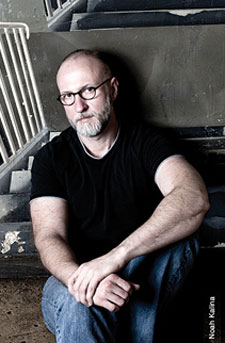 Bob Mould
(Photo by Noah Kalina)
Bob Mould sounded like he had all but given up on his last album, District Line. "It's the same thing every time, every time," he sang on "Who Needs to Dream?" And he slowed down to a crawl on another blaring and strident song, "Again and Again," singing in a weary and weak voice the song's refrain: "Sad attempts at poetry, sad attempts at happiness, the sadness of reality."
So it's surprising that just one year later, Mould's back with a new go-round. Even more surprising, Life and Times finds Mould in a better state — not happy, exactly, but content. Even he sounds incredulous at the turn of events.
"You're complicating things by being here. I wasn't planning on this," Mould sings, about a new love. "But somehow you're getting into my box, the piece of my heart I protect. It's taking me back, to the places I left behind — the old, life and times." Of course, as ever, Mould's lyrics here are thoughts on life and times — both his own and those of people around him.
As content as he may be, Mould remains a hopeful cynic. "I contemplate the situation, and pray for change upon my fate. Something tells me it ain't changing. Bad blood's better than no blood at all," he sings on "Bad Blood Better" in an exceptionally vulnerable pitch. He appears to be saying you can at least appreciate the lives and times in your past and present and hope for better.
Bob Mould
Life and Times
ANTI-
$17.98

Releasing Tuesday, April 7
No matter if any particular Mould album is content or discontent — or steeped in electronica or rock — you tend to warm up to it the more you listen. Initially, you may think the all-rock Life and Times gets stronger as it goes. The tracks toward the end of the set hit harder and are more immediate; you find yourself wanting to listen to them again and again. The first single "I'm Sorry, Baby, But You Can't Stand in My Light Any More," is a bittersweet tale about an ex that sounds sweeter than it is. It's also less bitter as it goes. The titular phrase bends, then breaks, as Mould shifts from bitterly venting at his "broken" ex to actually offering him an apology. "I'm sorry, baby," he repeats several times sweetly, closing out the song with subtle recognition that both parties are to blame.
From beginning to end, Life and Times is a noteworthy addition to Mould's repertoire. The Hüsker Dü and Sugar frontman's ninth solo set in a 30-year career certainly ranks among his very best. Its songs are as pithy and tight as ever, and the entire set is concise — 10 songs clocking in at just over a half-hour.
The album ends boldly, with an evocative ode to music. "The song gets fuzzy on the AM radio, tucked underneath a pillow," Mould sings, over hazy, distorting guitar chords and keyboard strokes that slowly rise and float away as a nursery chime, an echo from a simpler time.
Tom Goss
Back to Love
Self-released
$15
Releasing Tuesday, April 7
Tom Goss takes a different approach to love. Whereas Mould is a realist, resigned to love, his fellow D.C.-based singer/songwriter/guitarist Goss is an optimist, eager, enthralled to love. Sure, that may not have been quite so true on the singer-songwriter's first full-length album, 2006's Naked Without, or last year's EP, Rise. But with the new Back to Love, he's positively giddy, reflecting both his current happiness — he's engaged to marry his boyfriend later this year — and that of lovers around him. He ends the set with a sweet tribute to his late grandfather. "Until the end you taught us all to love," he sings on "Legacy of You," his loveliest track, one richly enhanced by sweet strings and gentle percussion.
Recorded in Ohio with producer Mike Ofca, whom Goss says added depth and edge to the set, Back to Love is a remarkable, cohesive collection of mostly pop love songs, several of which seem custom-made to be sung at Goss' wedding. First single "Till the End" is an obvious example, especially fitting for a gay wedding. "I know what love is, even if it's not the same/As what your god says, you see he truly is to blame/For what is nonsense, cause God is love and love is good," sings the former seminarian.
Goss sings in a clear voice, a tenor full of earnest vulnerability that matches his music's predominant aesthetic: exposed, unadorned and rather fragile, steeped in pop and folk, but informed by country and a trace of blues.On "Take Me On," Goss ends by taking us to church, with a de facto gospel choir clapping and singing the titular refrain. "Take me, on, yeah oh, you take me on, on." Chances are, any listener will do just that.