"Berliner Kabarett is like a musical quilt," says the show's director Christopher Gallu. "It's got all these songs that were never intended to be put together in a single night of theater."
Bertolt Brecht, Kurt Weill, Friedrich Hollaender, Hanns Eisler and other noted German composers and writers all indirectly contributed to this charming cabaret, set in a café in early-1930s Berlin, as Hitler started his ascent to power. It gives some insight into this heady, hedonistic era of great music.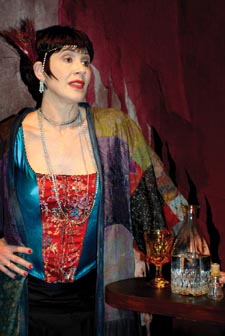 'Berliner Kabarett' at Source Theatre
Gallu worked with In Series founder Carla Hübner to select and organize the songs and dialogue for this production, updated from a version that In Series produced about a decade ago.
A Helen Hayes-nominated director as well as a writer, Gallu's experience prior to Berliner Kabarett is exclusively with so-called straight plays, including two Brecht plays. Though they were "plays with music," they weren't cabarets or musicals. Because of this, Gallu, who only started work on Berliner at the turn of this year, had reservations about taking on directing duties. But he says Hübner "was really game to say, 'Oh, that's fine, let's see what someone who isn't entrenched in this kind of theater comes up with."'
Most of the show's songs and dialogue is performed in English, often with an affected German accent, by its five performers, all American. Early on, the show teases that one of the café's working girls is a transsexual. Gallu says that probably 75 percent of the dialogue comes from pre-existing text, documents and poems drawn from the time. "It's more of a joke, a throwaway line," says Gallu, about the transsexual reference. Even so, it's a reflection of the openness and joie de vivre that permeated Berlin between the World Wars.
Berliner Kabarett runs through Saturday, May 2 at The Source, 1835 14th St. NW. Tickets are $33. A special Out at the In Series GLBT performance is set for this Sunday, April 18, at 3 p.m. Call 202-204-7760 or visit www.inseries.org.