There is very little to Linh Hoang that is not on the move.
Emigrating from Vietnam at age 10, that flight across the Pacific to the U.S. was just the initial momentum for the man who has yet to slow down. From Oakland, Calif., his first home in America — "Everything was incredibly big. The refrigerators, the roads…. It was completely overwhelming" — Hoang landed in Washington to study management at Georgetown University. Not that he could stay still on a single campus for the duration, of course. Instead, he spent the fall of 2002 studying in Florence, Italy, and the spring of 2003 in Sydney, Australia. It's no wonder two of his favorite pastimes, running and competing in the annual dragon-boat races, are all about motion.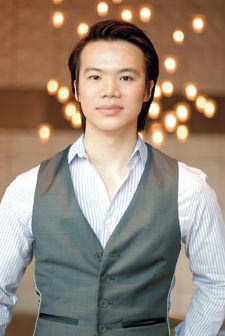 Linh Hoang
"I just bought a house in Northern Virginia and I need to turn it into a home," says Hoang, who worked as a financial management consultant for IBM until 2007, and is now a change management consultant for Accenture. "I've been traveling for the last two years and haven't had that opportunity before. Now I work locally and I enjoy taking care of the house, a little bit of gardening here and there."
His parents back in Oakland have helped Hoang's green thumb, loading him up with orchids during his last visit. But while plant roots may provide a new world in which Hoang can get his hands dirty, at 26 he is already a master at nurturing community roots. Take, for example, those dragon boat races he's so fond of, the Washington, D.C., Dragon Boat Festival that sees colorful regattas of dragon-headed boats take to the Potomac every May: He organizes them.
Hoang has also served on D.C.'s Commission on Asian and Pacific Islander Affairs, advising Mayor Adrian Fenty and former Mayor Anthony Williams. Some of his most fruitful political work, however, was during the 2008 presidential campaign.
"We were absolutely critical in turning Virginia 'blue' after 44 years," Hoang says of his work for the Barack Obama presidential campaign, outreaching to Asian Americans in Northern Virginia. "It was an amazing experience. Listening to people, that was the most important part for me. They'd invite me into their homes and we'd sit down, have tea, and talk about what's going on. It was really an opportunity for them to share their experience, their stories. It was absolutely incredible."
Hoang points out that while there was much support among Vietnamese Americans for John McCain during the election, the community is not universally Republican.
"The Vietnamese community is very, very diverse in terms of perspective. The young Vietnamese population is very opinionated. They want to be heard, want to share their stories. It's an important voting bloc in Northern Virginia."
Within the GLBT community, what Hoang may be best known for is his time as chair of the local group Asian/Pacific Islander Queers United for Action, or AQUA, which he first joined in 2004.
"If you look at our board leadership, it's relatively a young board," adds Hoang, who remains a board member himself. "We want to make sure we create that pipeline of young leaders, at the same time integrating with the leaders who have gone before us. We're at universities conducting conferences on queer A/PI identity. That's something we'll continue to do. And we'll continue to build partnerships with groups such as the Human Rights Campaign to have a seat at the table. There's still a lot more to do."
Working with AQUA might be a priority for Hoang, but it's one of many. He also dedicates plenty of time and energy working with Vietnamese youth in North America and Europe, helping to organize an annual four-day camp called Len Duong, at which college students and young professionals are taught leadership skills.
"I can't compartmentalize myself into a particular box. I see myself as a whole person. I am a Vietnamese American. I'm from California, but was born and grew up in Vietnam and went to school here in D.C. I work for a major consulting firm. I work within the mainstream A/PI community, but also LGBT.
"I feel like that's something I'm very proud of: that background, that diversity and richness that I bring to the table. I shouldn't have to choose one or the other, but celebrate all of it. That's something that I consciously try to do every day, is to celebrate my whole self."
Hoang's sense of self may be his blessing, but may someday be Washington's loss. It's hard to keep all that dynamism tied down, and whether or not Hoang's own roots will imbed themselves here remains to be seen.
"I love Washington. At the same time, I like circumstances to change over time. If that means another city, another country, I'm open to that. I see myself as a very mobile person."
Should Hoang head for greener pastures at some point in the future, there will be no arguing that he didn't leave the city's community roots deeper than he found them.