There is a story D.C.-native Patrick O'Connell, the openly gay proprietor and chef — one of the world's very best — of the Inn at Little Washington, shares in the introduction to his 2004 cookbook, Patrick O'Connell's Refined American Cuisine. He remembers being 4 or 5 years old, filled with excitement about planting his first seeds — flowers and vegetables — shortly after moving from a District apartment to the wilds of Clinton, Md. His mother found him still standing in the backyard as the sun set, baffled and frustrated, wondering why his newly planted seeds weren't providing immediate dividends.
"I'm waiting for my garden to come up," he recalls yelling to his mother. "It won't come up. Something's wrong with the seeds."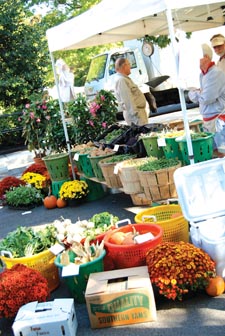 Falls Church Market
Years later, O'Connell has more than made peace with nature's pace, growing a bounty of his own produce on his grounds in Washington, Va. There are melons, beets, eggplants and beans, a cherry orchard and extensive herb gardens. But in this Mid-Atlantic region, spring produce is not quite ready to burst. Oh, but it's close. The Inn at Little Washington, for example, recently received its first annual crop of locally grown morels, those magical mushrooms that fire a chef's imagination.
"No other mushroom has a richer, earthier or meatier taste than a morel," says O'Connell. "We love them sautéed with a splash of cream on fettuccine. In a good year, our neighbors bring us so many that I'm able to create a multi-course tasting menu featuring them in every course."
Regardless of whether you're mad for morels — not that you stand much chance of doing them as proud as O'Connell would, no offense — the region's cornucopia should have your mouth watering. And the metro area's farmers markets are readying for the season, whether that means a return from winter hibernation, expanded hours, or just sprucing things up. Chances are, there's one in your neck of the woods.
Take, for example, the Falls Church Farmers Market, which runs every Saturday year-round, Metro-accessible in the City Hall parking lot. Stop by this weekend and you won't find any summer squash, but there might be some early asparagus on offer. The seasons don't matter much for the natural meats, homemade breads and pastas, and wines that keep the market running even in the dead of winter.
Or, take the time to wait for Mother Nature's garden to flow and scout out the best market for your needs. If Dupont Circle is your stomping ground, the D.C.-based nonprofit FRESHFARM Markets organization organizes a Sunday outpost in the PNC Bank parking lot on the 1500 block of 20th Street NW, which has just returned to high-season hours, running from 9 a.m. to 1 p.m. The group's Penn Quarter market, running on Eighth Street NW, between D and E Streets, returned to seasonal business on April 2, operating Thursdays from 3 p.m. to 7 p.m. If Adams Morgan is more convenient, that neighborhood's market, running Saturdays from 8 a.m. to 2 p.m. at 18th Street and Columbia Road, returns in May.
Regardless of where you live in the area, chances or good that you'll be able to find fresh and sustainable sustenance not far from your front door.
For listings of local farmers markets, visit www.freshfarmmarket.org, www.localharvest.org, and www.washingtondcfarmersmarkets.nova-antiques.com.
For more about the Inn at Little Washington, visit www.theinnatlittlewashington.com.