After appearing on the 2008 first season of Bravo's Make Me a Supermodel — and falling just a coiffed hair short of the title, as the first runner up — Ronnie Kroell's e-mail inbox remains flooded with questions and comments from around the world.
"I've been receiving messages every day because the show is now airing globally," he says. "They're coming from young gay and lesbian men and women, but also straight individuals…asking me questions about how I got there, what I did, and what I suggest they do."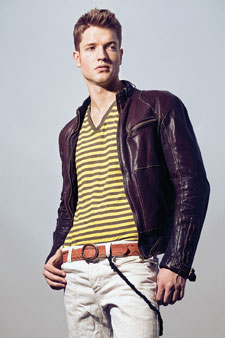 Ronnie Kroell
(Photo by Boris Kravchenko)
Overwhelmed by the fan mail but certainly comfortable in front of a crowd, Kroell is using speaking engagements to spread his inspirational tale about how he catapulted from Chicago to New York City, his new home.
One of those outlets is the April 16 speaker-series talk presented by the Capital Area Gay and Lesbian Chamber of Commerce (CAGLCC), formerly known as PEN, in Silver Spring. Kroell's appearance carries the title "Branding U."
"I'm going to be talking about my experiences on Make Me a Supermodel and being openly gay in the media, and of after the show, what the experience has been like and what I'm doing to try and remain credible and being the artist that I want to be," says Kroell, who's working to build a brand. "[It's about] the importance of finding your voice."
Kroell hopes those who attend the event will be able to glean some insight from his experiences that they may be able to incorporate into their own lives.
"I really want them to walk away feeling like they've got something now that will be a tool for them in their tool belt. Something that they can pull out and say, 'I remember Ronnie said this, and I'm going to try it."'
Ronnie Kroell will speak Thursday, April 16, at Discovery Communications Headquarters, 1 Discovery Place, Silver Spring, at 6 p.m. Admission is $25, $19 for CAGLCC members. There will be a party afterward at Eggspectation, 923 Ellsworth Drive, Silver Spring, from 8:30 to 10:30 p.m. For tickets or more information, visit www.pendc.org/node/79.