Until just a few years ago, Joe Goode considered himself a "puppetphobe." "Puppets seemed like children's theater," says the innovative choreographer. "The cuteness factor was a bit too much for me."
Now, however, a puppet plays the lead role in his latest dance-theater piece, Wonderboy, to be performed this weekend at the Clarice Smith Performing Arts Center.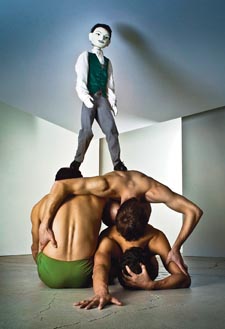 'Wonderboy'
(Photo by RJ Muna)
Goode, 58, gives credit to New York puppeteer extraordinaire Basil Twist for provoking his "conversion experience." Twist's puppets "are so lively and vulnerable and creative. They made me feel something," says Goode. His company's six dancers physically manipulate and interact with the titular three-and-a-half foot puppet, which Goode describes as "a pre-adolescent child, a queer child too sensitive, too afraid. He slowly begins to realize his own sensitivity is not a liability but an asset."
Goode discovered his own asset as a dancer when he was just a queer, sensitive pre-adolescent boy following his older sister to dance school in Hampton, Va. He switched to theater after moving to New York, because he wasn't sure there was a future for him in dance. "How can I change the world in tights as a prince?"
The answer came after he followed his sister once more, this time to San Francisco. Goode started his eponymous group there in 1986, as a means to combine his disparate background, and also themes of gay liberation and activism.
Wonderboy, which features original music by Carla Kihlstedt and Matthias Bossi, took two years to develop. "This show is very touching and really sweet, and it ends on a really joyous note," says Goode. "People really respond to it."
He adds: "My work is unlike anyone else's, with dancing and talking and now puppetry."
The Joe Goode Performance Group performs Friday, May 1, and Saturday, May 2, at 8 p.m. at Clarice Smith Performing Arts Center's Ina and Jack Kay Theatre, University of Maryland, University Boulevard & Stadium Drive, College Park. Tickets are $35. Call 301-405-ARTS or visit www.claricesmithcenter.umd.edu.