Tom Stoppard junkies may scoff, but any discussion of Studio's Rock 'N' Roll must begin with the caveat that the uninitiated may wish to either read the play before going or accept that they should have been listening during that political-theory class instead of worrying about where to intern.
Though this play takes place in Prague, Czechoslovakia, and Cambridge, England, circa 1968 through 1990, it is not the historical aspects that potentially befuddle. Indeed, the program offers plenty in the way of timelines, summaries and Dramaturgical pontifications to set the historical stage. What challenges you is the intensity with which Stoppard's characters cerebrally leapfrog back and forth across issues including but not limited to communism, socialism, the human soul and Sapphic interpretations.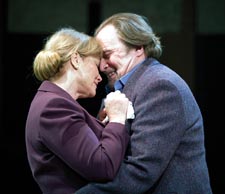 Rock 'n' Roll
(Photo by Scott Suchman)
Don't let this deter you. Stoppard's uncompromising drive in the grasping of entrenched political nettles (as manifested, for example, in the chewing over whether to sign a petition in repressive Prague) produce many provocative junctures, even for those us who may only have flipped through Stalin for Dummies at the bookstore. Caffeine, alcohol or pure oxygen, can help.
This is far more than a play about the dynamics of political thought. Stoppard also tells us a rich, emotional story of lives lived, queried and lost, and there are absolutely no primers necessary for Rock 'N' Roll's heart and soul. With brilliant simplicity, Stoppard creates an immediate intimacy with Max, a Cambridge academic famous for his unwavering commitment to the notion of communism, wife Eleanor, another uncompromising academic, and their happily hippy daughter Esme. Events begin as Max says goodbye to an erstwhile graduate student, the young Czech, Jan, who is returning to Prague where the reality of communism under the Soviet thumb is in full sway. With stark precision, Stoppard then moves us back and forth between Max's life in Cambridge and Jan's life in Prague where each struggle to define their political views as informed by the vagaries of real life. Eventually, Jan returns to Max and we see the shifts and settlements after decades of tumult both personal and political.
The scenes of life in Cambridge are by far the most effective. Daily life is sketched but beautifully captured and, as we learn that Eleanor is very ill, so is the tragedy of human frailty. In the hands of two superb actors — Ted van Griethuysen as Max, and Lisa Harrow as Eleanor — the scenes are superbly rendered. Harrow, overlarge in STC's Ion, is working at her finest caliber here, emotionally raw and yet beautifully nuanced. Van Griethuysen, throughout this production but particularly in his scenes with Harrow, is limitless in his ability to bring layers to Max and credibility to the emotions of this complex man. To see such life breathed into Max and Eleanor is to experience Stoppard's gift at its best. It is wonderful and it is devastating.
Stafford Clark-Price brings an appropriate innocence to Jan, a man unwilling to take up a cause, but the characterization thins when Clark-Price delivers his lines with more enthusiasm than nuance. It doesn't help that the Czech accent comes, goes and morphs, a distraction that also seems to impede Clark-Price in getting a better hold of Jan. David Agranov as Ferdinand, his far more radicalized Czech friend, seems more comfortable in his accent and his Eastern European mannerisms, but the inter-play between the two while they debate their political viewpoints often lags despite their efforts to keep it lively. This hollowness translates also to the "Prague" set, which unlike the Cambridge scenes fails to create a palpable atmosphere. This is not so much an issue of props but of mood, and the actors are a large part of it. Jan doesn't seem to "own" his apartment in the way that Max and Eleanor "own" the table at which they sit.
Richard Price delivers a believably grumpy Nigel, Esme's ex-husband, who moves between the Cambridge and Czech worlds, though his accent also suffers at times. Katie Henney as the young Esme along with Caroline Bootle, Emily Townley and Jay Sullivan in smaller roles bring understated but vivid, convincing color to the Cambridge household. Interestingly, director Joy Zinoman, despite excellent insight overall, has Harrow also play the grown-up Esme. It is a great pleasure to see more of Harrow, especially as she so successfully transforms into the very differently shaded Esme, but the earlier loss of Eleanor is so profound it feels wrong to break that fiction.
And so read it, maybe. See it, definitely.