Different skin types deserve different facials. But that doesn't mean you have to break out the cucumbers and mud when perfecting the right combination of ingredients for your face. Now is as good a time as any to put your skin care needs in the hands of a professional like Chet Alan Bennett, owner of C. Alan Barber Salon at 923 U St. NW.
"I personally, as the owner, do custom-blend facials," Bennett says of his face-pampering procedure that runs from $40 to $70. "I'm famous for using a lot of cucumbers, sesame seeds, oatmeal…. We do a lot of things with vitamin E, lemon and sometimes — depending on the skin type — I will mix up an egg yolk or a banana. There are all kinds of things that we use."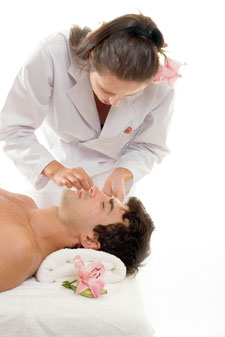 The salon is currently offering an introductory package of a haircut, shampoo and mini-facial for $20.
If the only thing you're looking for is a massage, however, C. Alan Barber Salon offers its signature massage: $99 for one hour, and $50 for a 30-minute session, by appointment on Sundays and Mondays.
Guilherme Araujo, manager of Body Co. Spa, at 1337 Connecticut Ave. NW, is especially excited about his spa's Thai massage, costing $110 for one hour. He describes it as having both elements of yoga and a traditional massage.
"It's a technique [we do] on the floor that involves a lot stretching," says Araujo, adding that the Thai massage may be of particular interest to those with more modest personalities. "You don't need to take off your clothes."
Body Co.'s traditional massages can be spruced up to include hot stones for an additional $15.
"It's very nice and very relaxing," Araujo says. "We give the massage with the stones, instead of using hands. We grab one stone and just work.
"It's a massage that's bound to have a lasting effect. "It helps in so many ways," he says. "It could help you increase your concentration, reduces stress, [improve] your blood circulation. It's very calming."
While Ava Salon & Spa, at 225 Pennsylvania Ave. SE, doesn't promote massage services specifically, manager Andre Hopfer says massage is often incorporated into Ava's skin-therapy services.
"I'm always very weary when it comes to 'spa services,' because people very often think that spa is something frivolous," Hopfer says, insisting that's a misconception. "We do skin therapy. I'm a skin therapist. The pampering aspect should be in your service. The neck massage, the face massage, the various aromatherapy oils that you're using. And, of course, the environment of the room. But the ultimate treatment itself is what I focus on."
Ava Salon offers custom-made facials, which start at $105. A general facial at Ava Salon begins with cleansing and moves on to exfoliation, the part of the facial where blackheads and other impurities are removed.
"This is the most crucial part of the facial, because that's where you see the result," Hopfer says. After the exfoliation phase, a gentle massage is given, and a mask is applied on the face that helps clients look younger and healthier.
"When you leave the room, you feel like 'Oh my God, I'm a new person."'
For more information, call C. Alan Barber Salon, 202-332-2526; Body Co. Spa, 202-293-8484; or Ava Salon & Spa, 202-544-5111.