Patsy Cline's is the first voice heard on the debut, solo-artist album from Sharam Tayebi, one-half of the celebrated D.C. dance duo Deep Dish. Doesn't that sound a little, well… strange?
You can say that again. And again. A house-music artist sampling a country and Western legend — in this particular case, Cline's classic "Strange?" That's already plenty strange. But to put Cline's vocals over a bed of mellow dub music? Stranger still. Yet, it's still not strange enough for Sharam, who records using just his first name. The Iranian-American also invited Kid Cudi, a new Kanye West-groomed rapping sensation, to appear on the track "She Came Along." Worlds seriously collide here.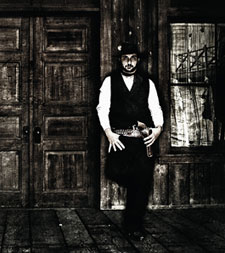 Deep tracks: Sharam
And the rap lyrics? They're strange too. Cudi raps about wanting to form a love triangle with his ex and her new female lover. In Cudi's lackadaisical delivery, you don't really believe he's serious, which makes this more fun, and certainly more harmless, than it might otherwise be.
Strange is the overriding sentiment that Sharam's album Get Wild conjures – but strange in the best possible way. It's a foreignness that you'll welcome wholeheartedly, just as intrepid explorers over a century ago ventured west to unknown, even frightening territory in search of great reward.
Get Wild is a bold, high-concept album, factoring in all shades of electronica, from moody chillout to driving progressive house to hip-hop house to rock-steeped techno. Though fortunately, there's less rock or techno than you might have feared, given the sound of the Deep Dish duo's last album, 2005's stilted George Is On. Clearly, Ali "Dubfire" Shirazinia is the aspiring techno rock star in the relationship.
Sharam's new artist album is mixed with such expertise, any unknowing listener would suspect it's a compilation. But this is an artist album, featuring all original songs. Most songs on the wide-ranging Get Wild clock in at well over five minutes, and Sharam directly worked with six guest vocalists on the set.
Besides sampling Cline and featuring Cudi, Sharam includes an anthemic pop track featuring Daniel Bedingfield ("The One"), a progressive tuner from 2005 American Idol semi-finalist Mario Vasquez ("Get Wild"), and even Tommy Lee of Motley Crue fame, who trades drums for piano on the sweet trance instrumental "Sweat." Piano-based trance from a heavy-metal star, the epitome of strange.
SHARAM
Get Wild
Ultra Records
$12.98

Richard Morel is one of two local frequent Deep Dish collaborators to return, on the sublime "I Love The Way (That You're Breaking My Heart)." Also returning is Anousheh Khalili, who adds her intriguing, wispy voice to two tracks: "Be The Change," a song inspired by the first private female space explorer Anousheh Ansari, and "Don't Say A Word," a haunting club-burner expressing helplessness, but also hope.
Sharam also invites Diddy to add raps to the three-year-old club hit "PATT," which sampled from comedian Eddie Murphy's one big pop hit, 1985's "Party All The Time." "I hate you, bitch – but I love you more," Diddy raps, about a lover who just wants to have fun. If only life were that simple.
Sharam ties this diverse mix of tracks together not only by creating one continuously mixed set, but also through a short instrumental introductory track. "The Wild Theme" features a gradually exploding melody riff lifted from an old-time horror flick. Call it haunted house, if you want to be cute. But whatever you call it, it's a bit spooky, exceptionally thrilling, and above all, downright strange.