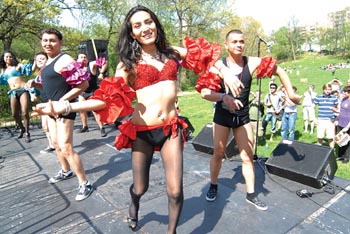 Click for 165 pics from the 2009 Youth Pride Day in DC
There was something for everyone at Youth Pride Day at P Street Beach on Saturday, April 25, including lots of sunshine. Justin Time came all the way from Philadelphia to perform at the Youth Pride Alliance-sponsored event, launched 13 years ago. He set a chill mood by covering Kansas' "Dust in the Wind," as well as Bob Marley's "Redemption Song," while patrons sat on the lawn or visited the many vendors on hand at this year's event.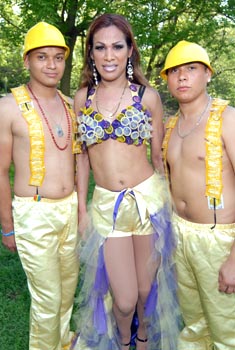 Another highlight was the Latino-infused dancing by an unnamed group who incorporated condoms into their flashy costumes.
"We wanted to do something that would be really colorful and different, and we wanted to use condoms in a positive way to encourage young people to use them for prevention," said Gladys Gonzales, the group's lead performer.
Before the band "noon:30" closed the day with a soulful performance, audiences got a crash course in vogue-ing, including the chance to get onstage to strut, dance or just strike a pose.
Andrew Barnett, executive director of the Sexual Minority Youth Assistance League (SMYAL), who was out Saturday with all those cool kids, said Youth Pride is an important event.
"I think for so many youth who are coming out, who are just discovering what it means to be LGBT, they might see it as being different, they might feel anguished or upset," said Barnett. "Youth Pride is very important because it's a safe space for youth to come and be happy and see that there are other youth like them."