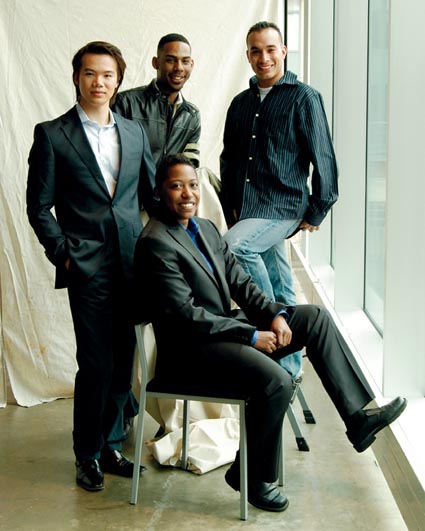 2009 Next Generation Awardees: (clockwise from left) Hoang, Watson, Ramirez, Bell
The story of our community is a story of generations.
The generation that formed nascent urban communities after World War II.
The generation that braved the era of McCarthy and the Red Scare to picket in broad daylight in front of the White House.
The generation that embraced the Summer of Love in a new and novel way, and that took to the streets of New York to fight back against oppression.
The generation that made the riotous '70s a cultural milestone and the generation that manned the barricades of the '80s with fierce resolve.
The generation that balanced the hopes and disappointments of the '90s and the generation that stared down the Rovian politics at the dawn of a new century.
We often talk about building on the achievements of those who came before us. But just as important is building on the achievements of the present — by encouraging and honoring the up-and-coming members of our gay, lesbian, bisexual and transgender community.
Metro Weekly's Next Generation Awards recognize the accomplishments of GLBT leaders and activists under the age of 30, as well as encourage their success in the future. From a field of remarkable nominees, a panel of GLBT leaders representing a broad cross section of the community chose four individuals whose achievements and potential made them truly representative of our community's next generation. (For a full listing of the Next Generation Awards selection panel, see below).
The four honorees — Eboné Bell, Linh Hoang, José Ramirez and Brian Watson — not only show promise in what they have achieved so far, they show promise that their best is yet to come.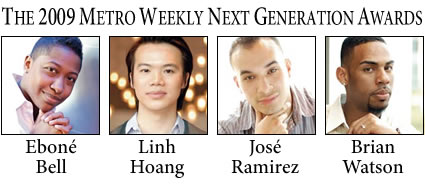 Selection Panel
Nominees for the Metro Weekly Next Generation Awards were solicited through an open call to the Washington metropolitan community. All nominees were reviewed, and winners chosen, by a panel of GLBT community leaders invited to serve by Metro Weekly. For full bios of all panelists, visit www.metroweekly.com.
Mario Acosta-Vélez
Past-President, Gertrude Stein Democratic Club
Amy Austin
Publisher, Washington City Paper
Everett Hamilton
Founder and Principal, Octane Public Relations
Mara Keisling
Executive Director, National Center for Transgender Equality
Margaret Murray
Executive Director, One in Ten
Eric Schaeffer
Co-Founder and Artistic Director, Signature Theatre
Courtney Snowden
Past-President, D.C. Black Pride
Adam Tenner
Executive Director, Metro TeenAIDS
Joseph Truong
Past-Chair, Asian/Pacific Islander Queers United for Action (AQUA)
The Next Generation Awards are presented in partnership with Witeck-Combs Communications and The Madison, a Loews Hotel.