Chances are you will not be seeing the Siegfried that opened this past Saturday night since the performance began with general director Placido Domingo's announcement that tenor Par Lindskog, in recovery from serious bronchitis, would not be singing until later in the run. However, the show had to go on and in an innovative move, Lindskog acted and mimed his Siegfried while fellow tenor Scott MacAllister sang it. Thus began a very novel but ultimately wonderful evening of Wagner.
This is the third offering from director Francesca Zambello in her quest to conceive an American "Ring Cycle," and while it fares far better than her Das Rheingold, it falls short of the profound punch of her Die Walkure. Still, if you're anything other than a diehard traditionalist, there's much to savor about this impressively well-crafted, imaginative and surprisingly accessible production.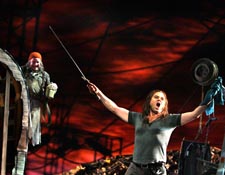 'Siegfried'
(Photo by Karin Cooper)
Zambello sets her Siegfried in mid-20th century Anywhere, USA, and this time it is an America lost to urban decay and ruined landscapes where the ravages of capitalism have left an underclass of humans and supernaturals alike. Parallels to current events abound, but the mood here is more about survival than sanctimony. Particularly effective is Jan Hartley's projected imagery writ large during the overture and interludes and as the backdrop to the action. Wagner's music makes the heart and soul soar — if not always to Valhalla — and such dramatic imagery, though obviously not available in Wagner's day, seems made for this music. In excellent complement are set designer Michael Yeargan's thoughtful, sometimes rueful, sets, full, but not saturated with detail. There is a dragon to be slayed in this tale, and Yeargan's creation speaks to Wagner's myth and Zambello's vision with equal cleverness.
The combination of MacAllister's voice and Lindskog's acting was less distracting than one would expect and Lindskog mimed with such heart it was often possible to forget that the voice was not his (except when he mischievously ate while MacAllister sang). It must have been quite a challenge for MacAllister to step in under these circumstances, even with a lectern and the score, but he carried the night with his clear, undaunted tenor. He was wonderfully expressive, no minor feat considering he had no one to play against.
No doubt frustrated, Lindskog nevertheless emoted very effectively, even without a voice, bringing enough energy and compelling quirkiness to his Siegfried to make one eager to hear him sing it — and that is probably the best of outcomes. He plays his Siegfried as more the agitated, disaffected youth than hero-in-the-making, which works well within this urban myth interpretation. Having said that, Lindskog looks far more like a Northern European teen than a Yank — indeed much of this production feels more European than American — but for those of us not wedded to the American concept, it hardly matters.
SIEGFRIED
May 9, 14, 17
Kennedy Center
Opera House
$45-$300
202-295-2400
www.dc-opera.org
Aside from Lindskog's unknown vocal qualities, the reason to see this Siegfried is the superb duo of Andreas Conrad as Mime, the conniving dwarf who has raised Siegfried from infancy, and Alan Held as the Wanderer, the drifter who turns out to be Wotan, the god who has been brought low by his thirst for power and control. With his wonderfully expressive tenor and excellent acting, Conrad gives us a perfectly creepy Mime. And bass baritone Held sings at his very best, offering a rich, full-bodied yet nuanced Wanderer. His characterization of this menacing visitor is clever and credible. His Wotan is slightly less effective as his voice was sometimes lost in the orchestra. Gordon Hawkins is a convincing Alberich.
Soprano Irene Theorin is an impressive, huge-voiced Brunnhilde, the Walkure Wotan has sent to sleep on a flame-shrouded rock to await a husband and her transformation into a mortal woman. When Siegfried finally releases her, Wagner begins their courtship with a surprisingly contemporary angst, but ends it with a mythic but less convincing happily-ever-after. He wrote Act 3 a good 12 years after his Act 2 and the differences, musically and tonally, are palpable. And, as Wagner moves his action closer to the gods, so the sets lose their human details — which works conceptually but has one missing the visual textures of the mortal world. Thus, despite the romantic climax, the production loses some of its earlier tension and power. Still, conductor Michael Guttler draws the very best from the Washington National Orchestra, and this is a glorious evening of Wagner at his dark and menacing best.
So what if Brunnhilde wakes up on a mesa?