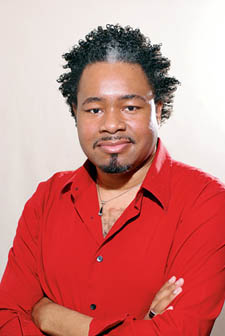 Khalid Parker
What an exciting year! I am so glad to humbly serve as President of Black Lesbian & Gay Pride Day, Inc. (DC Black Pride) and reside here in Washington, D.C., in such a time as this. As you all know, we share this city with the first African-American President of the United States of America — President Barack Obama! The energy in the city and the world rests here in Washington, D.C. — home of the first and longest-operating Black Pride organization in the world! By the time you read this, gay marriage in the District of Columbia may also be legal — this is a great time and we just want to share the love… Pure Love.
While there are so many things that are going wrong in this country, there are a number of things going right as well. So, this weekend is all about you. This year's theme is Pure Love. We ask that you renew your commitment to yourself and your community by volunteering and giving back, restore your self-love and make strides to seek services to improve your mental health, physical and spiritual health and refine these goals daily so that we can love more, live more and truly encompass Pure Love.
There are a number of health issues that are pervasive not only in the African-American community, but in the African-American lesbian, gay, bisexual and transgender (LGBT) community as well. The HIV/AIDS epidemic is rampant in our community and is ravaging the lives of our men, women and children. In recent weeks, an epidemiological report released by the DC Department of Health HIV/AIDS Administration conveyed that 3 percent of D.C. residents are infected with HIV. This data is only consists of those persons who have been tested. Sadly, the large majority of those persons are African-American. What is even more disturbing is that in every population, there is an increase — including our youth. So we must get tested. And for those persons currently living with HIV/AIDS, please adhere to your medication regimen, as it is imperative in living a healthier, empowered and longer life. During the weekend, there will be various educational opportunities to learn more about the social ills that are desecrating our community — so avail yourselves to attend the various workshops and seminars to learn more about you.
To further our mission, we have chosen Pediatric AIDS/HIV Care and The Wanda Alston House as our beneficiaries. Both of these agencies work with youth and families affected/infected with HIV. The Wanda Alston House provides housing for LGBT youth who have been removed from their homes or need somewhere to stay other than the streets. Many of these young people are often kicked or pushed out of their homes due to their sexual orientation. Pediatric AIDS/HIV Care is a beacon in the HIV/AIDS community and has helped hundreds of children and families who are infected or affected with HIV/AIDS.
I am very thankful to our many supporters and sponsors over the years. In this difficult economic time, there are still people out there who care about the success of the DC Black Pride programs and events. For this, I am grateful and appreciative.
This year promises to be one of our most inclusive and versatile program years to date. We have amazing headliners, speakers, authors, and other celebrity guests who have come to share in our 19th season of DC Black Pride. There will also be various nightlife events as well for your entertainment. It is my prayer and goal that everyone finds and personifies PURE LOVE on this week!
In Liberty, Unity and Strength,
Khalid Parker
President
DC Black Pride