Five years ago, Green Day blazed a new path toward rock respectability with the release of American Idiot. The high-concept album instantly became a classic, a theatrical tour-de-force, featuring a couple lengthy song cycles a la The Who, something practically unheard of in rock these days. It was strident yet tuneful, angry yet controlled, bitter yet hopeful — all in all, perfectly measured. It was also perfectly attuned to its time, venting liberal frustration and anger.
Now, Billy Joe Armstrong, Mike Dirnt and Tre Cool have finally returned, and their eighth album is just as high concept. 21st Century Breakdown opens with "Song of the Century," which announces the band's m.o. here, contrived in a hushed tone, all static and reverb: "They're playing the song of the century, panic and promise and prosperity," Armstrong sings. It's a lofty ambition — capturing a conflicted and confused era — underplayed for effect.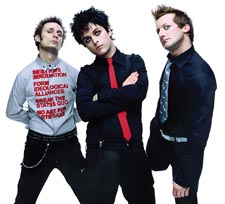 Green Day
Less understated is what for all intent appears to be shameless pandering, seemingly to rouse a new, younger demographic. A couple of songs reference the "Class of 2013," and it's also scrawled in the album liner notes. It may make you feel old, sure, but by the standards of today's incoming freshmen, the guys are, too. All three members of the band are in their mid-30s — their freshman days are long gone.
Besides starting soft, the set also features songs that are sweeter than you'd expect from these punk rockers. But the sweetness doesn't last. All told, 21st Century Breakdown registers at least as hard and certainly angrier than what's come before it. The set ends oppressively, with the hard-charging "See the Light." And immediately before it, comes "American Eulogy," which reprises the soft opening track before lurching into blistering AC/DC-esque territory. It's actually a bit too heavy and tuneless.
That's true at several turns on the new set, and it must be a reflection of the fact that the band didn't work with its longtime producer Rob Cavallo. Instead, the guyliner-happy, gay-friendly rockers turned to Butch Vig, the celebrated producer behind Nirvana, Smashing Pumpkins and Garbage. It definitely makes for a more angular sound. The music's all over the place, as ever, but the predominant flavor draws from 1970s rock in general, and not just The Who in particular. This time, Queen and Aerosmith are clear influences. Yes, the drama has been ratcheted up.
"¿Viva La Gloria? (Little Girl)" is just one of several songs that recall Aerosmith, with its rock speed, country twists and punk turns. It ends almost farcically, with a loud bang of tin. And then comes "Restless Heart Syndrome," which starts off as a '70s-era ballad, gentle but brooding. "I'm elated, medicated," Armstrong sings. "Lord knows I've tried to find a way, to run away." It eventually builds up, as you knew it would, into a full-scale dramatic rocker, worthy of Aerosmith. Everybody, all together now: "Sing with me, sing for the years, sing for the laughterÂ…." "21 Gun" is another straightforward anthem plucked from the '70s, complete with a trite electric guitar solo — but what a blaring gem this is, a song about disarming, calling a truce. "One, 21 guns, lay down your arms, give up the fight," Armstrong sings, partly in falsetto. "Throw up your arms into the sky, you and I."
All told, and any way you slice it, Green Day's new album registers as a sequel to American Idiot. It's similar, familiar — it's really good — but since it didn't come first, it's not revelatory about a band you probably once dismissed, it's not original — it's just not as good. And it only serves to increase interest in American Idiot: The Musical.
GREEN DAY
21st Century Breakdown
Reprise/Warner Bros.
$18.98

Yes, there is such a thing in the works. Michael Mayer, director of Broadway's hit Spring Awakening, which was built on rock music by Duncan Sheik, has worked with Armstrong to fashion a musical that Mayer will direct in its world-premiere engagement in Berkeley, Calif., starting this September. No word on when it might play closer to us, or if it will go to Broadway.
Of course, if the new musical is as successful as the 2004 album itself was, we can likely expect to see a 21st Century Breakdown: The Musical next decade. Chances are, it won't feel as strong or as original either — though it may be more touching, on account of the new music's added sweetness. "Last of the American Girls" has a sweet veneer to it, though the music packs a punch to match the lyrics, even if the meaning's not exactly clear. "She's an endless war, she's a hero for the lost cause," Armstrong sings. "She's a natural disaster, she's the last of the American girls."
Better still, Armstrong channels John Lennon on the album's "Last Night on Earth," a rock ballad of timeless vintage. "You are the moonlight of my life every night," Armstrong sings. "Giving all my love to you."
Who knew he had so much love to give?