Just a couple of hours before the 2009 DC Black Pride "Pure Love" Kickoff Party moves into high gear, some members of the community will be celebrating in a different sort of way. They will be celebrating the life of Theodore Kirkland, who along with Welmore Cook and Ernest Hopkins, was responsible for launching DC Black Pride. It was the world's first, since emulated across the country and now bringing the values of Black Pride to other parts of the world, too.
Kirkland, living in Seattle, died in February of AIDS-related illness. He was 56. And it's no coincidence that his D.C. friends are celebrating him as they celebrate the start of D.C.'s 19th Black Pride festival.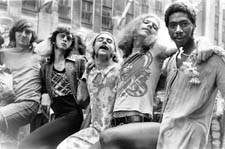 Theodore Kirkland (right)
(Photo by Rainbow History's David Aiken collection)
"It's a very resonant day for us in a lot of ways," says Hopkins, who survives both Kirkland and Cook. "I think it would be very meaningful for him."
The resonance is not only because of Kirkland's role in founding DC Black Pride, Hopkins says, but because it was originally begun as an HIV/AIDS fundraiser. That was how the three met, volunteering for a grassroots organization called Best Friends of D.C., raising money for the emergency needs of people with AIDS, when there were few other resources available.
"We did fundraising to keep people in their homes, pay their utilities, burial assistance for their families — anything a person might need," Hopkins says. "Remember, this was prior to the Ryan White Care Act. There really was little from the federal government for emergency assistance for those who were uninsured or down-and-out. We thought that creating an event in the black gay community would be a good fundraising tool to augment our resources."
To that mix, Cook, older than the other two, brought his longtime connections to the black gay social clubs. Hopkins, then chair of the D.C. Coalition (now the D.C. Coalition of Black Gay, Lesbian, Bisexual and Transgender Men and Women), had the government connections. Kirkland, a veteran, a physical therapist, and a man living life as both openly gay and openly HIV-positive, brought organization and enthusiasm.
Despite some resistance from corners of the community at the time, that first DC Black Pride managed to attract about a thousand people, says Hopkins, with steady growth after.
"One of the things people need to know about Theodore is that he was an amazingly cultured and sensitive guy, who spent time in the military then came out, did public service providing for the health care needs of the disabled," says Hopkins. "He was always very sensitive. He would give you the shirt off his back. And he was fun. He had a very infectious laugh and a very cynical sense of humor, especially around politics."
Cornelius Baker, former director of Whitman-Walker Clinic, says he met Kirkland right after moving to D.C. in the mid 1980s. He was also able to visit Kirkland in Seattle just a few weeks before he died.
"I think the idea of coming together, of celebration, of just being you — that's all Theodore," Baker says of Kirkland's DC Black Pride legacy. "At the same time that you're being you, you're making a statement. You cannot be black and gay and be public, out there in the world — especially doing it with a great deal of happiness — without making a statement. Theodore was very clear about it being very important to be present in the world and to celebrate yourself.
"The great thing about Theodore was that it was just all out there. You didn't have to figure out what was on his mind. He told you. He did what he wanted to do, for better or for worse. It was inspirational. Here you have a black man from Ohio, with the Radical Faeries and the Gay Liberation Front in the early '70s, and at the same time military. Sexually, Theodore was just out there. If he wanted to drink, he drank. If he wanted to do drugs, he did them. He was a totally committed atheist. He made humor out of it.
"He struggled through issues with his family, with alcoholism. We all struggle, we all have our 'stuff.' But our stuff isn't what has to define us. It shouldn't get in the way of advancement, for you or your community. He lived his life that way. It was just a joy to know him."
To learn more about Theodore Kirkland, please visit the Rainbow History Project's page dedicated to him at www.rainbowhistory.org/Kirkland.htm.