In the professional promotion, there are a few words officially associated with Lace, a restaurant and nightclub in Northeast D.C.'s Brookland neighborhood: "Sophisticated. Mature. Sexy. Diva. You."
In the words of owner and manager Linda McAllister, "Lace is an upscale restaurant for the gay and lesbian community. Primarily, my target audience is women. Lace has exceptional customer service and an amazing chef."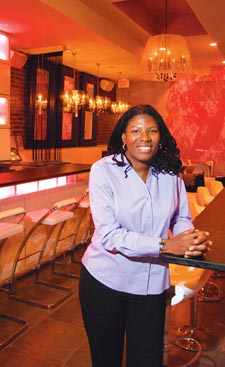 Linda McAllister of Lace
Walking in, patrons enter at the bar area with lounge seating. Also on the ground level is the restaurant, where Chef Yvonne Lucas crafts a range of offerings, from a salad of orange-glazed salmon to tempura seafood with a Cajun twist. The underground level is where you'll find the nightclub to dance the night away, including a special VIP lounge for special celebrations. It's a mood inspired by one of the world's foremost adult playgrounds, realized by interior designer Lynn Coffland of Baltimore.
"There were several clubs in Las Vegas that I just thought had the right sort of excitement," McAllister says. "I took the time and resources to work with an interior designer so I could make sure when women come in they feel honored."
Although all are welcome, honoring women is the thread that runs through Lace, with McAllister saying she's been largely disappointed since moving to D.C. in the mid '90s by the nightlife options for women in the District. That frustration translated into Lace, which opened in November.
"It was surreal," McAllister says of Lace's opening. "It was elation and pride." And though it's currently open only Fridays through Sundays, McAllister hopes to expand those hours in the near future.
"The consistency is what women enjoy about Lace," she says. "Instead of every other Friday, or last Thursday, it's consistent. Another part of the feedback I get is about the aesthetics. Women tell me that they don't want to go into places that are dark."
While McAllister strives to make Lace welcoming to a diverse clientele, whether it's those looking for a quiet drink or dinner upstairs, or an over-the-top evening in the underground nightclub, she's also reaching out to the community in a way that transcends the business of nightlife.
"I see Lace as more than a restaurant and nightclub," says McAllister. "I see it as a community center. The Gertrude Stein Democratic Club, Women In the Life, other entities, have come to Lace for meeting space, for events. The plan, as things get more stabilized, is to add more days, add wine tastings, book signings, those sorts of events."
The icing on this cake is that McAllister promises to put some of her profits back into the community.
"Lace is owned and operated by a person who is part of the community," she says of herself, and talking about the GLBT and allied groups she supports. "By supporting Lace, you're supporting various nonprofits in the Washington area."
Lace is located at 2214 Rhode Island Ave. NE. and is open 5 p.m. to 2 a.m. Fridays and Saturdays, 5 p.m. to 1 a.m. Sundays. A $10 cover charge applies after 10 p.m. For more information, visit www.lacedc.com or call 202-832-3888.