In some places around the country, gay and lesbian people are still banned from adopting children. Likely in those same areas — and well beyond — a copy of Heather Has Two Mommies on a library bookshelf can make town elders apoplectic.
Fortunately, Washington is not one of those places. And for gay Washingtonians with thoughts of opening their homes and hearts to family additions via adoption or fostering, there's no time like the present. May is National Foster Care Month and May 28 will see a GLBT Adoption Information Session at the Human Rights Campaign's downtown headquarters.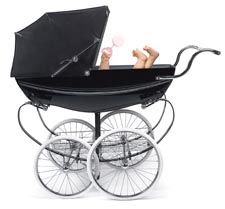 "There are a lot of folks in the [GLBT] community who are exploring parenthood, who are thinking about a lot of different ways to build a family," says Ellen Kahn, a lesbian parent of two girls, and director of the Family Project at HRC. She also serves on the board of Rainbow Families DC, an organization that brings together GLBT parents, prospective parents and allies, and will be speaking at the May 28 event, also presented by the D.C. Child and Family Services Agency and the Mayor's Office of GLBT Affairs.
Kahn says she often hears from "folks who are a little older" who think they've missed their chance to start a "traditional" family with a newborn baby. She points out that the traditional path isn't the only option, given the number of older kids in foster care, as well as GLBT or questioning youth who may be a good fit for someone looking to build a family.
"This is a way for us to remind our own community that you're needed, you're valued, and that there are many children and youth who dream of having a loving, stable adult [parent], whether they're straight, gay, single or married."
Kahn adds that issues of foster parenting will also be covered at the adoption seminar. The basic difference between adopting and foster parenting being that adoption is permanent. Foster parenting, on the other hand, may allow prospective parents to orient themselves to the demands of parenting without making an absolute commitment.
Grant Garris has two sons with his partner, and identifies as a "huge advocate" for adopting children considered "older," generally more than 6 years old.
"I think that people have a misconception that if imprinting, that connection, isn't done during those early toddler years, then there's not going to be a connection with your child."
His own experience adopting an 8-year-old son does not support that fear.
"[My son] went from foster home to foster home. He never had the opportunity to find someone to imprint on. When we adopted him, it was fantastic because he was starving for that consistent parent."
While the end result of the couple's adoption process was "exhilarating," Garris admits that it was also confusing. That's why the couple launched "A Village To Raise," a Web site, out of their home in Roswell, Ga. They structured the site to help gay potential parents navigate the system more easily than they did.
In addition to making sense about adoption legislation in each state, the couple's site provides links to the Web sites of adoption agencies that offer photo listings of children available for adoption, under the "resources" section of the site.
Kahn says she is hoping people attend the event at HRC to help kids who are in need in D.C.
"The reason we are focusing on foster and adoptive parenting at this particular seminar is really to raise awareness about the youth in foster care in D.C. These kids are our kids. They're part of our community."
The Adoption Information Session at HRC's Equality Center, 1640 Rhode Island Ave. NW, is scheduled to begin at 7 p.m., on Thursday, May 28. Admission is free. For more information, visit www.lgbt.dc.gov. For more information about Rainbow Families DC, visit www.rainbowfamiliesdc.org. For "A Village To Raise," visit www.avillagetoraise.com.