The Superfly Fashion Show, DC Black Pride's official fashion show event, starting at 8 p.m. on Friday, May 22, will feature a genuine commitment ceremony with a local lesbian couple.
"The young ladies approached the president of DC Black Pride, wanting to have their commitment ceremony during DC Black Pride. He asked me if it would be okay if we had it during the fashion show," says William Ridley of Belvedere Service, organizer of this year's event. "I said, 'Of course we can work it in."'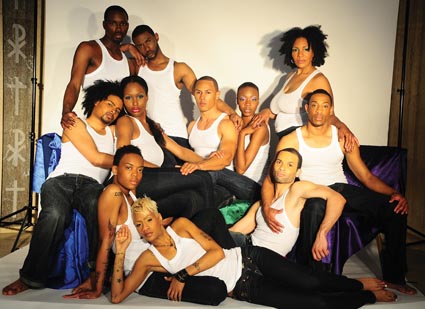 (Photo by Ben Bishop Photography)
Ridley says the ceremony will be a brief, but exciting, addition to the show.
"It's going to flow with the fashion show, and I think it's going to be a wonderful thing."
After the brides exchange their vows, 23 designers, most of whom are local, will unleash everything from swimwear to evening gowns, using local models who auditioned for the show in March.
"We wanted to make sure that it was a very large-scale type of show, in that you'll be seeing a lot of different things."
Ridley says the March model call was inspired by DC Black Pride President Khalid Parker's goal to get the community more involved in DC Black Pride: "It is a nice variety of individuals who are in the show."
Of the 25 who auditioned, 11 made the cut. Organizers then invited other models to join the 11 for this year's show, resulting in a group of about 30 models. This year's models include men and women, two male-to-female (MTF) transgender models and three who will be modeling in drag.
"We wanted to make sure that the show had every aspect of an individual," Ridley says. "So we wanted people who were thick. We wanted people who were skinny. We wanted people who were tall. We wanted people who were short."
Attendees might also recognize some familiar faces working the catwalk this year, not because they're local, but because they're "large." That includes Myammee, winner of the VH1 reality show I Love Money 2; De Marco Major from Logo's Shirts & Skins; and New York's City Gym Boys.
An opening performance by DeAngelo Redman from the fourth season of MTV's Making the Band is bound to help the many featured designers make this year's event bigger than last year's.
"I think this year you're going to have more designers than last year, and you have a show that is going to touch different types of clothing," Ridley says. "We have so many designers.
"Also, a major part is that we have this commitment ceremony, which I'm totally excited about. That's going to make it different than last year."
Ultimately, he says, it's about coming together and having a good time.
"This is for individuals who enjoy fashion, who are a part of the community, to come out, to socialize, and to meet new people and to enjoy a great show."
Tickets for the Superfly Fashion Show are $25, $35 for VIP seating. Superfly is scheduled for 8pm-10pm, in the New Hampshire Ballroom of the Renaissance M Street Hotel, 1143 New Hampshire Ave. NW. For more information, visit www.dcblackpride.org.