It's no wonder that Khalid "KP" Parker, president of DC Black Pride, is a little tired. Have you seen the lineup of everything that's been pulled together for 2009, the 19th year of the festival?
"I've been exhausted about six months now," Parker says, still managing to laugh about it. "I'm running on fumes. But it's okay. I keep pushing, I keep going. I eat, drink and sleep DC Black Pride, 24/7. It's been a difficult year, but I've bent over backward to engage the community. After all is said and done, it's about the community as a whole."
But thanks to Parker and the people behind DC Black Pride, folks hitting Pride this year are going to have some choices to make. Is it going to be about the praise, the poetry, the parties — or just as much "Pure Love" as you can get?
One event that can't be missed is the Sunday Festival. This year, all the vendors and the Health-N-Wellness Expo — along with the sensational Crystal Waters and other amazing performers — will be setting up shop at Love nightclub, one of D.C.'s most elaborate venues.
"Love is one of the largest clubs in the city, and we have the entire club available to us," Parker says. "It's going to be set up in a way that people can pick and choose. At the Convention Center, we just had a wall of vendors. This gives people more variety. That's what a lot of people are excited about. The Sunday Main Stage is really diverse. People are still sending us messages that they want to perform, both local and national talent. It's definitely something that people won't want to miss."
Parker adds that details of a shuttle service to move festival-goers between Love and a nearby Metro station should be finalized well in advance of the festival, making transportation a breeze.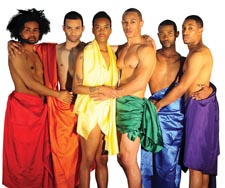 (Photo by Ben Bishop Photography)
While Parker's excited about the Festival, he's got a special place in his heart for the Superfly Fashion Show Friday night.
"We put a lot of work into that by incorporating members of our community," he says, pointing to the local models who will be strutting down that catwalk. But just like a parent, Parker can't pick one event over another, sharing that he's excited about all of the events that make up this year's DC Black Pride.
If Kirk Shannon-Butts plays Pride favorites, though, he's got every excuse. Why shouldn't he care most about his movie, Blueprint, screening as part of Saturday's Pure Throwback Film Festival, sponsored by One in Ten?
"The film is an independent, art-house film, for an audience that generally doesn't have these films made for them," says Shannon-Butts, aka "boi WONDA," who's also been called the LGBT Spike Lee.
Aside from the story he presents of two young men in Harlem, Shannon-Butts has his own sweet story.
"It's always wonderful to come back to the community you're from," says the Baltimore native who now calls New York home, who also studied for a time at Howard University before setting his sights on film school in California. His 2005 short film, Complete Abandon, won a "Plant a Seed Award" at One in Ten's 2005 Reel Affirmations film festival, netting him $5,000. "That, in turn, helped fund Blueprint. It's really good to kind of come back and bookend it in D.C."
While Shannon-Butts may be making a return, Parker says an entirely new addition to DC Black Pride is the HBCU (Historically Black Colleges and Universities) Workshop Saturday afternoon. There, students — current, potential or former — can learn about Gay-Straight Alliances on HBCU campuses. That's just one new way of trying to bring the next generation into the DC Black Pride fold.
"I'm definitely looking to bring in new talent, especially younger talent," says the 36-year-old Parker. "DC Black Pride does need some updating. For 2010, the 20th DC Black Pride, we will definitely have a younger and stronger presence."
But with off-the-hook parties, workshops to help you with love and money and everything in between, writers, singers, fashion and flair — for starters — 2009 will be a hard act to follow.
Click here for a full listing of events. For updates or more information, visit www.dcblackpride.org.