Everything in Toro Mata: the Art of Peru is original. That is, of course, with the exception of the of the replica paintings of renowned Colombian artist Fernando Botero. "His paintings go for $2 million," says Hector Zarate, co-owner of the store, adding with a laugh, "I'm not at that level yet." Still, Toro Mata has many original items you can't find anywhere else. The name of the store is Spanish for "The Bull Kills," which is a well-known folk song in Peru. Toro Mata is located at 2410 18th St. NW and is open on Sundays from noon to 6 p.m.; Tuesdays and Wednesdays from noon to 8 p.m.; Thursdays and Fridays from noon to 10 p.m.; and Saturdays from 10 a.m. to 10 p.m. Below are just a few items you will find on any given day at the store. For more information about each item, call 202-232-3890 or visit www.toromata.com.
Pottery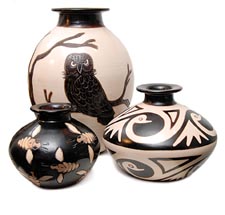 Zarate says these Chulucanas pots, named for the town from which they originate, are created in Peru using a tradition that involves burning mango leaves, resulting in a black or brown finish. The pre-Incan tradition has been reenacted in Peru for the past 30 years. The prices range between $24 and $100, depending on the size of the item.
Mirrors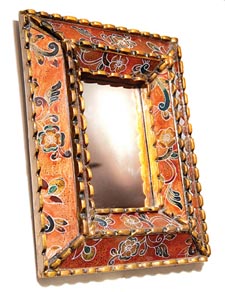 You might notice a lot of different mirrors at Toro Mata. Look closely at the painted, glass frames and you will see that the colors and designs featured on the pieces are actually painted on the reverse side of the frame. "Reverse paint on glass came to Peru more than 400 years ago with the Spaniards," Zarate says. "They don't only make mirrors, they make boxes, trays, all kinds of art like that." These mirrors are available in small, which are about $19; standard sizes, which cost about $250; and oversized dresser-mirror sizes, which cost between $700 and $800.
Jewelry
Toro Mata features three different jewelry artists: Evelyn Brooks, who does the men's collection; Virginia Ugarte, who creates jewelry for women; and Sara Varboza, who crafts for both genders. Toro Mata jewelry features sterling silver, nearly pure. The store sells bracelets, rings, pendants and cufflinks for men, and a large assortment of jewelry for women. Jewelry starts at $65.
Paintings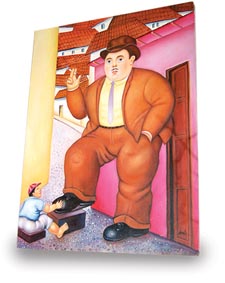 The store also features 17 different artists from Peru, who paint in various styles: abstract, modern, landscape and black-and-white, for example. The pieces range in price, but start at $95. All are original works, with the exception of the Botero replicas.
Furniture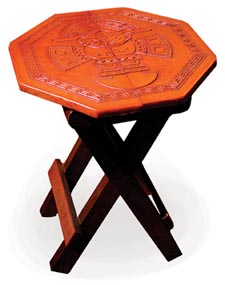 Carved-leather on wood coffee tables are a staple at Toro Mata. They range in price between $220 and $595, generally. But you won't find any two that are alike. That's because they're hand carved with pre-Incan symbols and imported from the city of Arequipa, Peru, in the Southern Andes. Foldout stools that also feature the leather-on-wood technique complement the tables and can be used as stools or end tables. They cost $56 each.