A decade ago, the Black Eyed Peas was an alternative hip-hop trio with a devoted cult following. They soon exploded into the mainstream to become the leading hip-pop party band, after adding vocalist Stacy "Fergie" Ferguson. Six years later, the quartet, also featuring will.i.am, apl.de.ap and Taboo, is prepared to become the world's leading dance-pop band. Or at least, that's the impression you get from the group's new album, The E.N.D., its first in four years.
Months before release, Fergie teased that the album would be its most energetic. "A lot of the BPM's being higher has helped my workout," she joked to Entertainment Weekly. The songs are mostly consumed with partying and getting drunk — health and fitness isn't really a lyrical driver here. Still, Fergie wasn't lying: The title stands for "The Energy Never Dies" — and this quartet, which constantly raps about making music "to infinity," isn't about to call it quits. The album may not be continuously mixed, but the songs often bleed into one another. It registers with as much impact and inspiration as any DJ-mixed dance compilation. The music is also uptempo and varied enough that, as with Fergie, chances are your workout will be enhanced.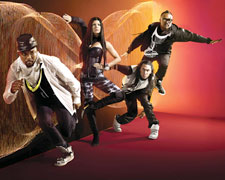 B.E.P. to Infinity
There's an undercurrent of French house on the album, in good measure because one of France's leading house producers, David Guetta, is on board for several tracks. This includes the band's current hit, "I Gotta Feeling," which launches with a simple guitar riff straight out of the Max Martin/Kelly Clarkson playbook, before turning into modern Euro-pop, with builds and twists inspired by progressive house.
Too bad the repetitive, simplistic lyrics weren't more inspired. Somehow, here the energy did die.
But aside from a cheesy computerized welcome, and a Bob Sinclar-styled number of bland beats and banal lyrics called "Now Generation," The E.N.D. is a fantastic romp. It's far more in the vein of the 2003 commercial breakthrough — and just plain fun — Elephunk than it is 2005's irritating and dull Monkey Business. It even includes a socially conscious tune every bit as moving as Elephunk's "Where Is The Love" featuring Justin Timberlake. That song and its successor "One Tribe" feature lyrics that are a tad trite, but both are anthems for their times, featuring catchy melodies and resonating ideas. "One Tribe" starts with a Billy Joel-esque chant, and features will.i.am rapping about the need for collective "amnesia." "Forget about all that evil, that evil that they feed ya," he raps. "Remember that we're one people, we are one people."
BLACK EYED PEAS
THE E.N.D.
Interscope
$13.98

There's nothing dull about The E.N.D. "Here we go, here we go, satellite radio, y'all getting hit with the boom boom," will.i.am raps, rapid-fire, on the magnificently hard-hitting first single "Boom Boom Pow," also the band's very first No. 1 U.S. hit. "Beats so big I'm stepping on leprechauns, shitting on y'all with the boom boom." On paper, that sounds crass, but on record? A blast.
There's a string of fantastic songs, and the challenge becomes picking your favorite. Let's see: Maybe it's "Boom Boom Pow," or the funky, bouncy "Out of My Head." Or maybe it's "Electric City," a world music-influenced hip-hop track with a rich melody that M.I.A. only wishes she had created. Or maybe it's "Rock That Body," which draws from disco legend Giorgio Moroder as well as from early hip hop, with the well-chosen sample from the classic "It Takes Two" by Rob Base and DJ EZ Rock. This Guetta-produced track ends up sounding like an improvement on Daft Punk, with more feeling, and naturally more rap. If this is the wave of pop's future, it's certainly looking bright.