Chip Wells can't help but laugh when recalling some of his favorite moments and contestants at the Pride of Pets dog show held annually in Dupont Circle since 1993.
"It never ceases to amaze me, the dogs who love to perform vocally," says Wells, the gay executive director of PETS-DC, the organization that produces the event, referring to the competition's Best Vocal Performance category. "Some of them perform wildly, and others get stage fright and they sit there silent."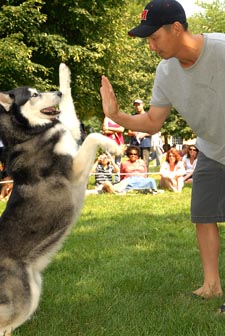 Pride of Pets
Local hound dog Buddy performed in the former category — wildly — when his owner, George Kassouf, a gay volunteer at PETS-DC, decided to enter him in the contest in 2007.
"It's not really singing, and it's not something you would want to hear for long," Kassouf says with a laugh. "He's got a powerful bark Â… and one of my best friends called him from outside the ring, and so Buddy just started barking and would not stop. The audience thought that it was hilarious, that here was this dog who, before they announced his name, was already out barking like a nut."
It was enough to win over the judges for Best Vocal Performance, and enough applause from the audience to win the final People's Choice Best of Show. But not every pooch in the dog show needs to perform during Pride of Pets — scheduled for 3 to 6 p.m., on Saturday, June 20 — to win. Some can simply pose. There are, after all, 15 different categories, including Most Original Costume.
"My favorite is 'Bat Dog,"' Wells says of a local French bulldog whose bat-wing costume has become something of a tradition.
The other categories in the contest are: Best Tail Wagging, Most Affectionate, Best Mirror Image, Most Obedient, Least Obedient, Most Mysterious Heritage, Terrific Pet Tricks, Best Puppy, Best Senior Dog, Best Pairs, Most Glamorous, and the Most Adorable.
While Pride of Pets is an event that's open to everyone, Wells says the GLBT community has taken a particular interest since the first canine contest in 1993, three years after PETS-DC was founded.
"When we started this 16 years ago, our organization was focused entirely on people living with HIV/AIDS," Wells explains. "The HIV/AIDS epidemic 16 years ago was much more a part of the awareness of the gay and lesbian community [than any other community]. We had their support, not only for the mission, but it gave an outlet to experience joy in the face of HIV and AIDS.
"That was kind of the reason that we first started this. The morale in the community was dampened by the impact of HIV/AIDS on the gay community, and this gave us an opportunity to show that life does go on despite these difficulties, and there can be joy in such simple things as the wagging of a dog's tail."
PETS-DC has grown over nearly two decades, evolving from a group formed to offer free pet-care services for clients suffering from HIV/AIDS, to now serving about 150 human clients with financial need who suffer from various debilitating illness. That translates to caring for roughly 300 animal companions.
Pride of Pets brings awareness to the program, and also raises money for the organization.
"The whole reason that our clients like to keep their pets with them, despite all their difficulties, is that it brings them joy. Whether you're dealing with chemotherapy, or dealing with the nausea from your medication, or whatever, just having a little bit of joy every day is so powerful."
Wells suggests thinking of the bond between people and their animal companions as those pets being the "family member" with whom one best relates.
"We don't feel judged by the pet," he says, adding that caring for pets may provide a much-needed outlet for those receiving constant care from others. "We feel the love is unconditional."
Kassouf fulfills that need by volunteering at PETS-DC, both at the dog show and helping care for pets.
"Being a pet owner myself I know how important my pet is to me," he says. "Knowing how important people's companions are, I want to make sure that somebody who can't take care of a pet fully, because of their disease, still has as much access to their pet as possible."
To register in advance for Pride of Pets, visit www.petsdc.org; $25 to enter one dog in any number of categories, or $6 for individual categories. For more information call 202-234-PETS.