The season is upon us. Maybe you haven't made it to Rehoboth or some similarly gay, sunshiny holiday spot just yet this year, but that invitation could be right around the corner. Perhaps you're just seconds from getting that text from your pushy best friend: "SOBE 4 7-4-09!!"
South Beach for the 4th of July should be a welcome invitation — as long as you've gotten yourself back into summer shape. No one will argue with your myriad excuses if you haven't. Maybe you're a tax accountant who was too busy toiling through the early spring to hit the gym. Then this whole marriage-equality thing blew up and you were just too busy hitting town-hall meetings and stress eating. Mm-hmm. Here you are, feeling flabby and counting down to your 2009 beach debut. But if you've got at least a couple weeks — and discipline, money or a combination of both — you can do wonders.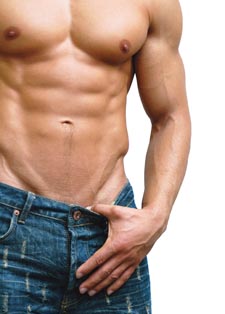 "It's definitely going to be a challenge," admits Jaime Andrews, a personal trainer and the general manager of VIDA Fitness at the Metropole. "But you don't want to go crazy and hurt yourself."
What Andrews advises starts with taking a deep breath. More deep breaths than you can possibly imagine.
"Whether it's the elliptical, the treadmill or running, there should definitely be extra emphasis on cardio," she advises. "You want to continue with strength training. You're not going to get huge, but you want an overall body workout. Put stints of cardio into your strength training. You could jump rope between sets.
"And allow yourself to recover."
The recovery is important, Andrews explains, because you'll do a better job of increasing that fat-burning metabolism if your heart rate climbs, then rests, then climbs again, rather than going for a high rate for an extended period.
"Getting that exercise going, you're going to feel happier, better about yourself," she adds, pointing to a welcome byproduct of your gym time. You may not get ripped, but you'll care less and love yourself more.
More important than gym, however, may be the menu.
"With this amount of time, a big focus is on diet," says Andrews. And while cautioning that she's not an advocate of any of the popular carbohydrate-free diets, she says ditching the carbs will produce some immediate effects — a big-plus with our hypothetical time crunch.
First on her list of foods that don't make the cut? Well, it's not really a food at all.
"Alcohol is a high-calorie food that we sip and don't even notice," she says, so skip those sugary appletinis if you have any hope of sitting pretty in the cabana. "Remove sodas and those crazy Starbucks drinks. They can be extremely high calorie. It's like you're drinking one of your meals, if not two of them."
You probably suspected those 500 calories in the "venti Caramel Frappuccino" with whipped cream, but now you know it. Try a nice herbal tea instead.
Stick with lean proteins such as skinless, white-meat chicken or turkey, or fish. Raw vegetables are great, and breakfast — oatmeal or a healthy cereal — is a must.
There are also two seemingly counterintuitive measures: Don't starve yourself, and get plenty of rest.
"Get adequate rest. You don't want to work every single day," she says. "And don't stop eating. By not eating, you kick into starvation mode, storing fat.
"I think in two weeks you'll see results. Not a brand-new body, but there could be noticeable results."
Now comes the money fix.
If you've got a bit of cash on hand, you can fine-tune what you've started with Andrews with Dr. Howard Brooks of SKIN Cosmetic Dermatology of Georgetown. Or start from scratch with Brooks and hope he's a miracle worker. Either way, you might snag more dates at the beach if you first make a date with his Titan Laser.
"Titan uses infrared light to tighten up collagen," Brooks explains, offering that while this procedure is more commonly used on the jaw line, his patients have been asking him to treat their abdomens and buttocks.
"This is for someone already in shape who needs some tightening. The ideal person is thin, with some loose skin. It won't get rid of the fat, but it will tighten the skin. The results are not as dramatic as surgery or liposuction, but they're much better than firming creams. And there's no downtime."
Brooks says that for patients to get the best results from Titan Laser treatments, they'll usually need three treatments, three to six weeks apart, with each treatment ranging from $600 to $2,000, depending on the area treated. Regardless of the body part, however, you could be in and out of Brooks' office in under an hour.
Though the repeat treatments are required, Brooks says the initial results should last two to three days, meaning your morning appointment with Titan could be followed by an afternoon in the dunes.
For more about VIDA Fitness, visit www.vidafitness.com or call 202-588-5559. For SKIN, visit www.georgetownskin.com, or call 202-298-7546.