When it comes to marriage equality, the conventional wisdom is that God is on the side of those opposed, that homophobic clergy are the rule rather than the exception. That axiom, at least locally, was thoroughly defrocked Tuesday in Anacostia's Covenant Baptist Church.
"Thank you God, thank you for the presence of your spirit, a holy presence that emboldens us to claim that your love has no limits, but that it enfolds all of us. Amen," said the Rev. Mari E. Castellanos of the United Church of Christ, as part of her prayer opening a press conference of D.C. Clergy United for Marriage Equality inside the church dubbed "the miracle on South Capitol Street."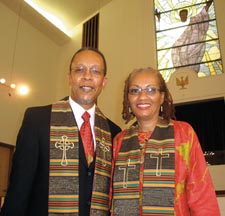 Dennis and Christine Wiley
Here, on a sunny, late-spring morning, amid stained glass, wooden pews and a pulpit carved with the phrase, "This do in remembrance of me," dozens of clergy representing a diversity of faiths, races, ethnicities and sexual orientations, claimed the moral high ground, announcing the formation of this coalition and releasing a "Declaration of Religious Support for Marriage Equality."
This new effort follows public pronouncements by Bishop Harry Jackson of Hope Christian Church in Beltsville, Md., and a member of the Missionary Baptist Ministers' Conference of Washington D.C. and Vicinity, and others, such as Councilmember Marion Barry (D-Ward 8), who have been crafting the debate of marriage equality along racial lines since the City Council voted 12-1 on May 5 to recognize same-sex marriages performed in other jurisdictions. D.C. Mayor Adrian Fenty (D) signed the legislation, which is now undergoing congressional review.
While this legislation is expected to see no action in the Democratically controlled Congress, allowing it to become law, there has been some congressional resistance to the measure.
Jackson's group is attempting to bring a referendum to District voters on whether such marriages will be recognized.
Longtime D.C. gay activist and an expert on the District's legislative processes, Bob Summersgill — and many others — doubt that Jackson has a shot at collecting the necessary signatures, due in early July, to even begin the process, which would include public hearings.
"D.C. has 415,386 registered voters," Summersgill explains. "Five percent is 20,769, so figure you need to sign up 30,000 people in order to get enough valid signatures. You also need at least 5 percent of the registered voters in a least five wards. This is not likely with the time limit."
There is also a question of whether such a referendum would violate the city's Human Rights Act, which would invalidate the effort.
"The black church and the black community have been characterized by some as being united in opposition against same-sex marriage," the Rev. Christine Wiley, who co-pastors Covenant Baptist Church with her husband, the Rev. Dennis Wiley, told those gathered. "This could not be further from the truth. Black people are not monolithic. We are diverse, just like all other human beings. And because Covenant Baptist Church is a beloved community with a long history of celebrating the richness of our diversity, we have gathered here today to affirm in the immortal words of the late Rev. Dr. Martin Luther King Jr. that injustice anywhere is a threat to justice everywhere."
Dennis Wiley echoed his wife's sentiments: "King also said, 'Cowardice once asked the question: Is it safe? Expediency asked the question: Is it politic? And vanity comes along and asks the question: Is it popular? What conscience asks is, is it right?'
"Well, we stand here to demonstrate our support for marriage equality not because we believe it is safe, politic or popular, but because conscience tells us it is right."
Dennis Wiley touched not only on the lofty, but also on the logistical, reporting that by the start of the press conference, organized with the assistance of the Human Rights Campaign, at least 136 clergy had signed on to his group's declaration in support of marriage equality, and that he expected to end Tuesday by passing the 150 mark.
Aside from the Wileys and Castellanos, four other members of D.C. Clergy United addressed the audience: the Rev. Robert Hardies of All Souls Church Unitarian; the Rev. Louis Leon of St. John's Church, Lafayette Square; the Rev. Abena McCray of Unity Fellowship Church; and the Rev. Alton Pollard of Howard University School of Divinity. Bishop Kwabena Rainey Cheeks, a member of the new group's steering committee, was not scheduled to speak, but stepped forward to answer a question regarding whether this new group has or would be engaging Jackson's conference directly.
Cheeks explained that he has discussed gay equality with Jackson at length, invited him to sit in his church, Inner Light Ministries. He characterized the position from Jackson's camp as being that gay people are "good enough to prepare the food, good enough to serve the food, we can even eat in the same room. We just can't come to the table. If we cannot sit at the table, no one's going to eat."
Carlene Cheatam, a member of Tuesday's audience, and who joined Covenant Baptist Church just weeks ago after hearing Denis Wiley speak before Ward 8 Democrats in favor of marriage equality, has a reputation as a no-nonsense veteran of decades of fighting for GLBT equality in the District. But there was no mistaking her elation Tuesday morning.
"I'm very excited," Cheatam said. "We should not have a conflict when it comes to love, when it comes to religion. I'm so proud that I'm a member of this church. I'm so proud of both Revs. Wiley because they manifest what I believe God wants of us. I'm just ecstatic today."