Martha Wash credits much of her lingering gay popularity to Sylvester, the flamboyant gay disco legend.
"You've got the fans who are, say, chronologically advancing in age — let me put it that way," Wash laughs. "They still remember Sylvester. So I think it really started there, and it's just continued over the years."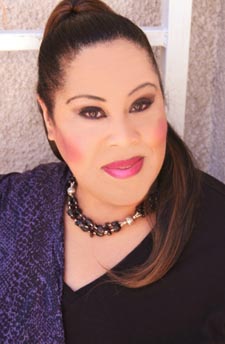 Martha Wash
Wash got her start singing backup for Sylvester, performing with Izora Rhodes Armstead as Two Tons 'O Fun. They even had a few dance hits under that moniker, which Sylvester coined. "He wanted another big gal to sing backup," Wash relates. "Izora and I sang together in a gospel group called NOW, News of the World, and in a community choir in San Francisco. I brought her in to audition for Sylvester, and the rest is history."
Of course, another reason for Wash's gay appeal: with Armstead she also sang what has become a de facto gay classic, the campy "It's Raining Men." "Hi! We are your weather girls," the two sing as the song opens — and though they had intended to continue performing as Two Tons O' Fun, the new identification stuck. The name The Weather Girls lives on to this day, with Armstead's daughters Dynelle Rhodes and Ingrid Arthur. Armstead died in 2004.
"The gay community has been big supporters of me and my career, which I appreciate," says Wash. "People often ask me, 'Why do you think the gay community likes big powerful singers?' The only thing I can tell them is that, they know good music."
And good voices. Wash has given voice to several dance hits over the past three decades, from Black Box's "Everybody Everybody" and "Strike It Up" to Tony Moran's recent "Keep Your Body Working." As inconceivable as it sounds, given that she has one of dance's most booming and distinctive voices, Wash has actually had to fight — even sue — a couple times for proper vocal credit, in a case of producers thinking her zaftig visage unmarketable. The most famous incident is C+C Music Factory's 1991 hit "Gonna Make You Sweat (Everybody Dance Now)." When Wash performs it now, she says she sings the song in a lower key. "The track was already laid at the time [of recording], and the key was already set," she explains, "so that's why you hear me screaming at the top of my lungs."
Wash, now in her fifties, says she's eager to expand her horizons.
"Everybody knows me mainly for dance music, but I still want to grow and do other types of music as well," Wash says, citing big-band jazz and gospel as particular favorites. "I'm kind of sticking my toes out into the water. I think in this time that we're living in, you need to diversify as much as possible to really kind of stay out there and stay afloat.
"Hopefully the gay community will be behind that as well, with the branching out and diversifying."
If it's good music beneath that great voice, gays will surely be there for her. Hallelujah.
Martha Wash will perform on the Mainstage at this year's Capital Pride Festival on Sunday, June 14.