Did you know Eva Peron's corpse was perfectly preserved? Or that her mummy was lost for years?
"I just knew part of her story before she died, and that Madonna played her," admits Sebastián Vitale, one of nine actors currently starring in the musical comedy Momia en el Closet, now in its world premiere at GALA Hispanic Theatre. Martin Ruiz, another actor from Argentina and part of the ensemble cast, was also unaware of the sordid story after Evita's death.
"But anything's possible in Argentina," laughs Ruiz.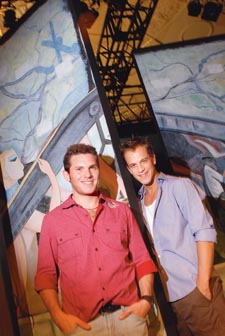 Vitale and Ruiz
Commissioned by GALA from Mariano Vales and Gustavo Ott, the musical takes some creative license in retelling Evita's afterlife on Earth. But its dark humor is largely based on fact. Vitale and Ruiz, both established musical-theater actors in Buenos Aires, and both gay, anticipate the show will be controversial once it goes home, probably later this year.
"Evita is like a goddess in Argentina, and there's certain stuff that some people won't like," says Ruiz. For example, the musical includes a scene in which a general from the anti-Peronista military dictatorship, which came to power after Peron's death, simulates sex with the mummy. Ruiz notes that the playwright Ott did research proving the incident's veracity, but that won't make it any easier for Evita's subjects to take.
"It's nothing like you've ever seen before about Evita," says Ruiz. Ruiz and Vitale play multiple roles in the show, with Vitale also serving as the production's dance captain. (He's also preparing to release a debut pop album in Argentina later this year.)
"It's been a lot of work," Vitale says. "But it's a very fun show."
And forget the history lessons included. Vitale laughs as he sums up the show's real appeal. "There's singing, dancing and acting — gay people love that!"
Momia en el Closet: The Return of Eva Peron runs through June 28 at GALA Hispanic Theatre at Tivoli Square, 3333 14th St. NW. In Spanish with English surtitles. Tickets are $34 to $38. Call 80-494-8497 or visit www.galatheatre.org.