Michael Pranikoff had just moved to D.C. when he discovered the Federal Triangles at the Capital Pride Festival eight years ago. Though Pranikoff had played in various soccer leagues in the District up until that point, this local gay soccer organization's promotion of an upcoming trip to Sydney, Australia, for the 2002 Gay Games was enough incentive for Pranikoff to join.
"Another reason I joined was because I had moved to the area and didn't have a lot of friends," he says. "Personally, I did not come out until after college, and so I was still trying to find my way a little bit."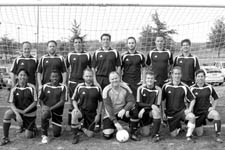 Federal Triangles
(Photo by Glenn Auve)
Pranikoff had such a good time finding his way and traveling with the group to Sydney — then to International Gay and Lesbian Football Association (IGLFA) tourneys in Buenos Aires, 2007, and London, 2008 — all the while playing midfield, that he made a vow to never miss a IGLFA event.
The IGLFA World Championship is part of the Gay Games, which are held every four years. On years that the Gay Games are not happening, such as this year, the annual IGLFA World Championship is held on its own. Even apart from the Gay Games, IGLFA's annual championship events usually attract more than 500 participants from around the world. This year, those participants are heading to the metro-Washington area as the Federal Triangles host the 2009 matches, June 14 to 21.
Pranikoff, public relations and marketing chairperson for the tournament, who is gay and has been playing soccer since the first grade, says the fact that it's a gay tournament doesn't change things "all that much."
"Its makes it a little bit more friendly," he says.
"It's just as competitive as anywhere else, but as people mature and have lives outside of it, it becomes much more of a camaraderie. In some ways, the camaraderie comes a little bit easier when you're on a team of people who are very similar to you."
James Cummings, another Federal Triangle member, whose four knee operations have limited him to refereeing the tournament instead of playing in it, has experienced that camaraderie as well.
"When I played in my 20s [in a non-gay league], you could kind of demonize your opponent. You could hate him because you didn't know him," Cummings says. "When you get into this IGLFA event, and you play against these people two or three times a year, and suddenly they're staying at your apartment while they're here — you just can't hate them."
The attendant nightlife events and parties of the IGLFA World Championship add to that friendly vibe. "Kick" is one such party, at Town Danceboutique, from 9 p.m. to 2 a.m., on Tuesday, June 16. There's also a Friday, June 19, party at Cobalt, sponsored by the Cherry Fund, dubbed the Cherry Ball. The June 20 closing party will include an awards ceremony and IGLFA Hall of Fame induction, from 8 to 11 p.m., also at Town.
The tournament, expecting more than 25 teams from the United States, Australia, Canada and several European and South American countries, is not just for men. The Federal Triangles have three teams playing in the men's division, and two teams are playing in the women's division.
Melanie Lilliston, tournament co-chair, has been playing with the Federal Triangles for the past five years. She also served as the league's vice president from 2006 to 2007.
"We're not different from any other team, except for the fact that we have a little bit more in common when it comes to off-the-field activities," says Lilliston, calling the team a "safe place" where everyone can be themselves and support on another. "Probably my closest friends come from playing soccer."
Lilliston has been one of the drivers in recruiting women to play with the Federal Triangles since coming on board, which is also a goal in organizing the tournament.
"We're one of the few clubs that actually has a men's and a women's team," she says. "But trying to promote that, encouraging women to come, has been difficult for us. We don't really know why, but we're working on that."
Jim Ensor, president of the Federal Triangles, says that to encourage more women — and men, for that matter — to play soccer, the group allows individual registration up until the day before the tournament games begin.
"You don't have to have a team to participate," Ensor advises. "We go through the process of matching you up with a team so that you can participate."
Ensor says organizers scheduled the championship to kick off right after Capital Pride, to encourage visitors to arrive earlier and stay later.
"It draws another spotlight to the city. [Capital Pride is] one of the sponsors, and they're giving the players the opportunity to march in the parade and bring their countries' flags."
While the IGLFA World Championship, last held in Washington in 1997, may add some clout to Washington's bid to host the 2014 Gay Games, that's not foremost in Ensor's thoughts. It's more likely he's thinking about how to make it through the championships with only minor injuries.
"I've broken ankles and separated knees and shoulders," he says. "I just got a black eye going up for a header. It slows you down a little bit. The older you get, the longer it takes for you to recover. But the sport is just so much fun, and the people that I play with are my friends."
The IGLFA World Championship runs June 14-21. Games will be held at the Maryland SoccerPlex, 18031 Central Park Circle, Boyds, Md., and at Trinity College, 125 Michigan Ave. NE. For a schedule of games and other information, visit www.iglfa2009.org or send e-mail to info@federaltriangles.org.