Some retail proprietors don't care much for the lingering, "I'm just looking," sort of patron. Not so with Erin Mara and Henriette Fourcade, owners of Homebody, "outfitters for contemporary living." Rather, they'd like you to think of their shop — offering a dizzying range of items, from greeting cards to Gus* furniture — as something much more inviting. "It's like an interesting gallery/living room," says Mara. "I've never liked high-end stores full of pretension. We're trying to create a relaxing environment." They're also trying to help the community with events such as an upcoming fundraiser for One In Ten, this Saturday, June 27, featuring musician Laura Tsaggaris. Stop by for some tunes, exotic teas, a table or nearly anything else you can think of to feather your nest, at 715 Eighth St. SE. Hours are Tuesday to Saturday, 11 a.m. to 7 p.m., and Sundays from noon to 6 p.m. Call the shop at 202-544-8445, send e-mail to contactus@homebodydc.com, or visit online at www.homebodydc.com.
Cuffs and Stuff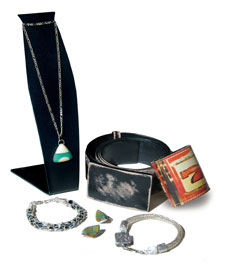 Why stop with your home when you can primp yourself, too? Try the rustic cuff for $54.95 for a bit of butch, paired with the distressed leather belt with wooden buckle for $74.95. The locally made cufflinks are $120, bracelet with moonstone amethyst for $89.50, or knitted sterling bracelet for $60. And a bit of billiard ball never looked so good, hanging here from a sterling necklace for $140.
Boogie Woogie Bookends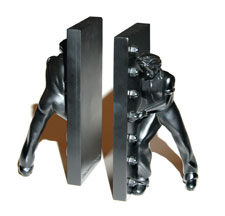 Nothing says reliability and determination like Rosie the Riveter. Let Rosie prove that's she's got what it takes to secure your titles for the duration with these stone-resin beauties inspired by America's WWII factory home front. The set sells for $39.95.
Back to Your Roots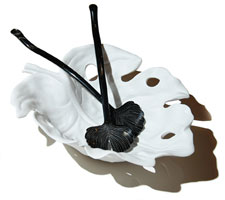 Serve your greens in the set inspired by the real thing. This porcelain bowl by Roost mimics the fine philodendron, and comes in black or white for $39.95. The servers continue the motif, modeling gingko leaves, for $35.95.
Barracks Row Brew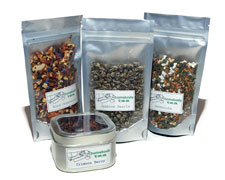 Homebody serves an award-winning medley of self-branded teas that are fit for a queen, 17 varieties in all, in either two-ounce bags or tins. Price ranges from $3.35 to $12.60.
Festival of Fringe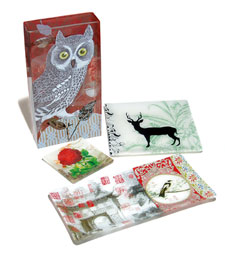 Delightfully organic with Asian accents, choose from an array of "transferware," so named for its process of transferring prints onto ceramics, from Fringe Studio. Pictured here are the owl vase, $59.50; rectangular tray, $36.50; square tray, $36.50; and a coaster, $15.50.