Dogs are not allowed in the house.
That's a motto Tim Williams had to accept growing up in his parent's home in Southeast Georgia.
"My mom used to always tell me, 'When you get a house of your own, you can keep your animals in the house.' And that's exactly what we do."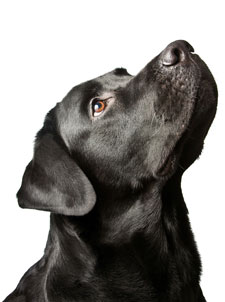 During the past five years, Williams, 44, and his partner of the past 18 years, Michael Broadston, 45, have fostered more than 20 pets in their home on Capitol Hill.
"The dogs that get fostered are the ones that may be getting overlooked, or maybe they had a physical ailment… or maybe they were older," Williams says. "We bring them into our home and have them, maybe as short as a week, to almost a full year."
Williams and Broadston became foster pet-parents after helping out at the Washington Animal Rescue League (WARL), where they currently volunteer. All of the pets that have been fostered at the couple's home have found permanent placements — even if that's meant staying put.
"One we ended up adopting — his name is Milo — is an eight-pound mutt we got from the D.C. Animal Shelter. He's completely blind," Williams says, adding that the couple currently have three cats and three dogs in their 3,000-square-foot home.
"They're our babies," says Williams. "We actually have placed stipulations in our wills to ensure placement of our pets before our assets are divided, so they really are what we call 'fur babies.' They're the center of our lives and we love them. Don't get me wrong, they can get on your nerves and annoy the hell out of you…but we will always, until the day we die, have animals."
Carolyn Bobb, volunteer coordinator at the Lost Dog and Cat Rescue Foundation, echoes those sentiments when speaking about pets.
"They enrich your life with companionship, with unconditional love, and they don't judge you," she says. "You come home, you're having a bad day at work, you're in a bad mood, your dog meets you at your door and it really does work as instant stress relief. Sometimes they pee in the house or chew something up, and that causes a little bit of stress, but nothing compared to the amount of joy that they bring."
Bobb says if you've thought about adopting a pet, the first step is determining if your daily schedule allows for such a commitment. The Lost Dog and Cat Rescue Foundation makes finding the right pet easy by hosting weekend meet-and-greets at PetSmart stores in Northern Virginia. The organization also gives customers a full refund if the adoption does not work out within 14 days.
"We are a same-day adoption organization," says Bobb. "People come there, fill out an application, they're interviewed by our staff and then that same day they take their animal home."
Burgundy Crescent Volunteers, a gay organization in D.C., volunteers with the Lost Dog and Cat Rescue Foundation regularly, and Bobb says that's another great way to get to know the pets that are currently at the organization.
The WARL may also be a good place to start.
Jim Monsma, director of communications at the WARL, says the organization is currently waiving the cost to adopt kittens through the end of September.
"We have a full veterinary hospital on site, so we take animals that other shelters maybe do not have the means to take care of," Monsma says.
WARL helps prospective owners before they make the commitment.
"It's not just automatic," Monsma says. "We talk to you. One of the things that we're most concerned with is making sure that it's a good match between you and the animal."
He adds that all the WARL animals up for adoption — as with the Lost Dog and Cat Rescue Foundation — are spayed, neutered and vaccinated.
"We'll talk to you about the cost," he says, "and the time commitment and sort of help you decide for yourself. You can come visit the animals whether you are not sure if you're ready to adopt or not."
For details, including the cost of adoption at the Washington Animal Rescue League, visit www.warl.org or call 202-726-2556. For the Lost Dog & Cat Rescue Foundation, visit www.lostdogrescue.org or call 703-295-DOGS.