In his first few days living in the District last fall, Jonathan Howard found himself caught in a daily routine: opening his Web browser to Google and searching for "Fabio Brandao."
It's the name of the man who attacked him last summer during an incident that Howard does not recall, due to the concussion he suffered.
"All I remember is leaving the club," says Howard, a 28-year-old manager at a college bookstore in Fairfax. The club was the Roxy in Boston, which hosts a gay night on Saturdays.
"My next memory is waking up in the hospital."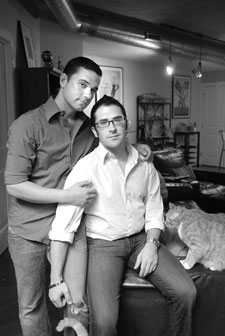 Gregory Jones & Jonathan Howard
Regaining consciousness in the emergency room of the Beth Israel Deaconess Medical Center on Aug. 24, 2008, Howard was greeted by the sight of his friend, Scott, nearby, getting stitches on his head, his clothes covered in blood.
"Things started to come in focus slowly and I was very confused," he says. "It was heart-wrenching and disconcerting because I didn't know how we ended up there."
Another friend, Jeffrey, was one of the three friends who briefed Howard on what had happened before he lost consciousness.
Jeffrey is still living in Boston and asked that his last name not be used due to fear of retaliation. Scott and Jenna, also victims of the attack, feel similarly.
Jeffrey recounts that the four friends wrapped up a bittersweet outing that night, a farewell celebration a few days before Howard and his partner of nearly one year, Gregory Jones, were set to move to D.C. for a position Jones had accepted as a psychologist at Georgetown University.
It was "too hectic to catch a cab," Jeffrey says of leaving the Roxy at closing, so the gang decided to walk home, about a mile. It was around 2:45 a.m. when Jeffrey, walking ahead of the group, heard someone yell, "You fucking faggots!" Jeffrey turned to see his friends being beaten.
"It was horrific," he remembers.
The attack took place at the corner of Columbus Avenue and West Canton Street, about halfway to the two apartments where the four lived.
"Jenna was punched in the face. Scott and Jonathan were beaten. After it was over, Jonathan looked like he was dead because he was unconscious."
Howard would go on to learn that during the attack, which lasted about two minutes, his head was kicked repeatedly.
"From one of the witnesses that I met at the trial, apparently they were stomping on my head, saying, 'Die faggot, die,"' says Howard.
"I had a concussion and a bunch of bumps and bruises on my head, underneath my hairline, and a scratch along my forehead. But I was very lucky," Howard says. Scott also suffered injuries, including permanent scars.
As Jenna and Jeffrey pulled out their cell phones to call 911, the four attackers ran to their car and drove away. Jenna and Jeffrey were able to read the license plate number to 911 operators before the car pulled off. Police also recovered a cell phone from the scene, which helped lead to Brandao's arrest.
Meanwhile, Howard's partner, Jones, was asleep in Cape Cod, more than 70 miles away, visiting family before the big move to Washington.
The three calls to Jones' cell phone were not loud enough to wake him. It wasn't until Jones heard a friend — also in Cape Cod and who had also been called — screaming at his doorstep, that he woke, much like his partner, confused.
"It was absolutely surreal, and I wasn't really understanding what was happening," Jones recalls. "My friend said, 'Greg, wake up! There's been an attack. Jonathan and Scott are in the hospital. It's really bad and we need to go."'
They made it to the hospital in Boston around 5 a.m.
"You could see that he had a bloody scalp still," Jones says.
A three-month ordeal followed, during which Howard would awake every night around the time of the attack, 2:45 a.m. Though he had no memory of the attack, that didn't prevent Howard's recurring nightmares.
"I would wake up every night, screaming and punching, just reliving it in my head, how it was told me to, over and over again."
In addition to his head injuries, Howard also suffered back pain from a cyst that doctors believe burst as a result of the attack. Because he had suffered a concussion, he was not allowed anesthesia when doctors excised the damaged cyst.
But perhaps what hurt the most weren't the physical or psychological injuries, but the sentencing of Brandao, the only person arrested for the attack.
Last month, May 27, Boston Municipal Court Judge Thomas Horgan sentenced Brandao to two years suspension from Boston's South End, which includes the Roxy. He's also responsible for the victims' medical expenses of $4,250, and must attend anger-management programs. The three other suspects remain at large.
"The message that we got was that hate crimes are okay as long as you only do them once and get caught, because the other three people did not get caught and they walked," Jones says.
When inquiring about Brandao's sentencing, Jones claims Transit Police and Assistant District Attorney Nicole Bonasera gave the couple an inane response.
"She said he probably won't have to do jail time, because she said that Boston jails are so filled that only people who are repeat offenders are going to jail now."
Bonsera says her explanation may have been misunderstood, offering that, "Many people who are not attorneys don't understand how courts work, so I was trying to explain to them the number of variables that a judge would consider when recommending a disposition on the plea. Â… What happens with the plea is that a defendant at any time prior to trial has a right to plead guilty. Â… In doing so, a judge would give a disposition that's probably less reasonable given the defendant's admission of guilt, than what the defendant would receive if the commonwealth were to go to trial."
Still, the light sentencing prompted a protest in front of the courthouse June 18. And Howard and Jones are sharing their story in an effort to advance hate-crime laws.
"Massachusetts does have hate-crime laws," Jones points out, adding that Brandao pleaded guilty to four counts of civil-right violations. "But the enforcement of these laws is despicable."
In D.C., part of the mission of Gays and Lesbians Opposing Violence (GLOV) is to work with prosecutors dealing with hate crimes.
"Punishment for a violent crime has two purposes: to punish and to deter. And it's the second purpose that is effectuated by a strong sentence," GLOV Co-Chair Chris Farris says.
"Ultimately, the decision on sentencing is the judge's and it's very difficult for a group outside the legal system to influence the judge," he says. "Our best way to influence is through the prosecutors. In a criminal case, the prosecutors represent the community. We are a part of the community, so we encourage the prosecutors to represent our community well in these types of crimes by seeking the maximum sentence to send the signal that hate crimes won't be tolerated in the our city."
While Howard says he doesn't feel any safer in D.C., he points out that he doesn't feel less safe in Boston either.
"It's silly," he says. "We left the club that night and said, 'Let's all stay in a group, so we're safe,' but you know, those little things that protect you on a day-to-day basis, it's not going to stop a hate crime from happening."