Crowd of Pride partiers at Charles and Eager Streets in Baltimore
"We need more love in the world," Amber shouted from Baltimore Pride's main stage last Saturday evening, June 20, using her headliner status to inject a bit of passionate politics with pointed barbs for Proposition 8 and support for the protestors in Iran.
It was a well-received injection, as pride celebrants felt both the love and the beautiful weather at the 34th Annual Baltimore Pride — although the latter was never guaranteed.
"We dodged a bullet with the weather," says Craig Wiley, executive director of the Gay and Lesbian Community Center of Baltimore, the organization presenting Baltimore Pride. Forecasted thunderstorms and heavy downpours never materialized Saturday night. Instead, there was a slight breeze and a largely clear-blue sky.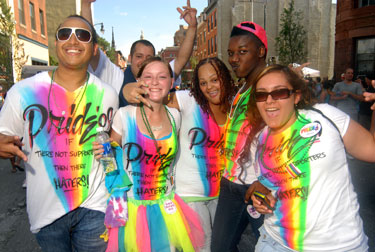 Thousands of people were out on the street at the evening block party, following the annual high-heel race and the parade that runs for about six city blocks. (A family-friendly, community-oriented festival followed on Sunday afternoon in Druid Hill Park.) Though they don't do an official count, Wiley says turnout for the block party appeared to be slightly higher than last year. It takes place on the gayest stretch in town, Eager Street between Cathedral and Charles Streets in the Mount Vernon neighborhood. A dance tent was set up at one end and the entertainment main stage at the other.
This year's Pride theme was "Love One Another." "[It] happens to be an Amber song," Wiley teases, "which worked out nice." The theme played itself out: There were few fights or altercations. It did get pretty rowdy out on Eager Street, however, with alcohol flowing liberally. Unlike Capital Pride, drinking is permitted throughout the block party, and the 45 or so vendors were mostly serving food and drinks, alongside occasional stands offering rainbow accouterments and T-shirts.
After Amber's performance, the party moved indoors — specifically to Club Hippo, for DJ Tracy Young. (See Scene, page 52.)
"Tracy Young was fabulous," says Chuck Bowers, the Hippo's owner. "She really rocked the house." That night the Hippo premiered an impressive new lighting system, installed by Norm Hill and operated by Jon Corun.
Some spectators got their kicks in early. "The people who got there early to see the stage put up were treated to quite a show," Wiley says, referring to the crew of shirtless men who assembled the main stage in the afternoon. "They were all very fine specimens. It pays to get there early."
Check out Metro Weekly's hundreds of photos from Baltimore Pride 2009.