Have you made Ciara's acquaintance yet? No doubt you've heard of her. After all, the Atlanta-based singer-songwriter — born Ciara Princess Harris — is a major-label pop star who frequently collaborates with hip-hop and pop royalty, from Missy Elliott to Ludacris to Justin Timberlake. Timberlake chiefly wrote and is featured on her current single, the discofied funk "Love Sex Magic," which they performed together when Timberlake hosted Saturday Night Live last month. So she's not exactly a rare find, an indie-pop buried treasure.
But have you actually heard her? Chances are, if you haven't yet hopped on Ciara's Fantasy Ride, her latest album, you'll be surprised at how much you've missed.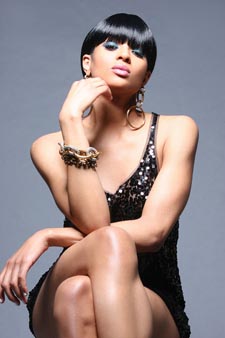 Fantasy fulfilled: Ciara
Ciara is an understated, underrated pop star. She'll never be confused with a Beyoncé or a Madonna, the type of singer who makes you listen to her, beating you into submission by her talent and skill. When Ciara emerged on the scene in 2004, she reminded me of Aaliyah, the late, modest hip-hop singer whose fledgling career was cut tragically short when she died in 2001. The 23-year-old Ciara cites Janet Jackson as her chief inspiration. You definitely hear that influence on her sound and music as she's grown.
In 2006, Ciara released her second album Ciara: The Evolution, as understated a concept album as you can get. Ciara drew inspiration, and occasionally sampled, from one dance-pop classic after another, and not just those that were mainstream hits. She exhibited real knowledge of the genre, and a confidence in how she thinks she can help it evolve.
Now, five years and three albums into her career, it's official: Ciara is more than just ready and willing to pick up where Jackson left off. She's actually doing it. Now all she needs are the gay boys to sign on to her rhythm nation — or, to be more accurate, to follow her one, two step. All it should take is one spin of Fantasy Ride.
The album, for which Ciara co-wrote several tracks and serves as co-executive producer, starts off with a computerized voice counting down "5, 4, 3, 2, 1." And then, we have lift off. "Ciara to the stage," the female chorus coos. "Call me!" Ciara shouts in response on this track, a mid-tempo slow-burner, like so many others here.
Ciara originally intended to release Fantasy Ride last fall, and it was to be a three-parter: one part sensual songs, another part uptempo hip-hop, and a third with "house-leaning, freestyle-tinged cuts." Something happened on the way to release, and this is just one disc of 13 tracks, only a couple of which sound much like house or freestyle. Both of these come courtesy of Nate "Danja" Hills, Timbaland's former protégé, now a star producer in his own right. He adds his characteristic, delightfully weird sonics to both "Turntables" and "Work." On "Turntables," a duet with Chris Brown — yes, Rihanna's batterer — Hills spins cute, chipmunky vocals round and round on the turntables.
Ciara certainly has fun playing with her vocals and vocal effects. She has a thin voice, but makes the most of it — singing in exaggerated, operatic fashion on "High Price," for example, or an occasional girly, Janet-esque coo, such as on "Like A Surgeon." Ciara tells any potential naysayers — if there could be such a thing — to "kiss my swag" on "Pucker Up," which closes with Ciara letting out a cute, girly laugh. Even if it wasn't spontaneous, the laugh is certainly sincere. The song itself sounds like a leftover from Britney Spears' Circus album — "Kill the Lights," especially — but Ciara sounds more genuinely inspired and charmed — and yes, sincere.
CIARA
Fantasy Ride
LaFace/Jive
$18.98

The second house-leaning track from Hills is "Work," featuring Missy Elliott. This is an instant classic. A sequel of sorts to Elliott's marvelous 2002 hit "Work It," the manic beats pop all over and around the track, inspiring a round of Double Dutch, or an episode of Soul Train. "The dance train is coming back again," Ciara sings. "Extravaganza, you should run and tell a friend."
In fact, all of the set's tracks have their appeal, and definitely inspire you to move. It's all such classy, cute fun, chances are you'll listen to it over and over again, and feel compelled to tell a friend — heck, whomever will listen — about your find.