We all know the type: the person who will travel the world to experience new things, but fails to take advantage of what is available in his or her own backyard. Heck, we are all probably guilty of it to some degree.
That said, I have two words for you: Baltimore and Richmond.
Baltimore is just about an hour drive from the Washington area, and Richmond is just about two. For less than a tank of gas, or for the price of a cheap ticket on Amtrak, you can feel like you're a world away without the expense.
Both cities have excellent accommodations, restaurants and attractions, as well as active gay scenes.
Stay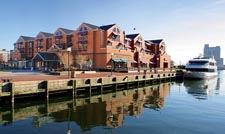 Pier 5 Hotel
Baltimore: Centrally located along the downtown harbor and steps from the city's more popular attractions, the Pier 5 Hotel is a comfortable and colorful boutique property. It offers 66 guestrooms and exceptional customer service.
Richmond: Opened in 1895, The Jefferson Hotel, with its 262 luxurious guest rooms and suites, is a AAA Five Diamond-award winner. It is a wonderful nod to a time since passed but with the modern amenities expected from today's hotels.
Eat
Baltimore: Rocket to Venus and Sascha's 527 are among gay-icon and Baltimore-native John Waters' favorite places to eat. Rocket to Venus is trendy but comfortable, with items like fried pickles and "Wimpies" (aka mini-burgers). Described by Style Magazine as "drop dead sexy," Sasha's 527 is located in the Mount Vernon neighborhood and offers creative American fare with a fair amount of expected seafood dishes, including the required jumbo lump crab cake.
Richmond: Located in the revitalized River District, Sensi attracts a blended gay and straight clientele who are drawn to the tasty Italian food and sophisticated space. For a more casual dining experience, Nacho Mama's in Carytown specializes in Tex-Mex cuisine and offers award-winning margaritas with more than 20 available flavors.
Do
Baltimore: By far the city's most popular attraction, the National Aquarium's living collection includes more than 11,000 animals from more than 600 species of fish, birds, amphibians, reptiles and marine mammals that live in masterfully recreated habitats. Another of the city's gems is the American Visionary Art Museum that features contemporary and historic works by self-taught artists.
Richmond: Virginia's Richmond region is well-known for its history, from Pocahontas and Patrick Henry to the Confederacy and canals. You could spend days exploring the various historic sites. What might surprise you, though, is that Richmond is also home to the largest public collection of Fabergé imperial Easter eggs outside Russia. The Virginia Museum of Fine Arts' Pratt Collection numbers approximately 150 creations from the Fabergé workshops.
Play
Baltimore: The Mount Vernon neighborhood is considered Baltimore's gay district with many bars, restaurants and shops. It is also where visitors will find Grand Central, with its multiple bars, pool table and dance floor, and the sprawling Hippo nightclub, catty-corner pillars of the city's gay nightlife.
Richmond: Unlike Baltimore, Richmond doesn't have an identified gay neighborhood. It does have, however, a number of fun bars that cater to the community. Most venues also double as restaurants. Among them are Barcode, Babes of Carytown and Godfry's, which hosts a fun drag brunch every Sunday.
For more information about Baltimore, visit baltimore.org; for Richmond, visit www.visitrichmondva.com. For travel through Sept. 3, 2009, Amtrak is offering 25 percent off the lowest available fares to Baltimore and Richmond when tickets are booked 14 days in advance.