"A lot of people miss the Roxy and the big-room experience," says Peter Rauhofer. "We saw this as an opportunity."
For many years, Rauhofer served as resident DJ at the now-shuttered New York nightlife institution, The Roxy, which had its last Pride party three years ago. This year he's planning a Pride party larger than even the Roxy's at New York's largest dance space, Roseland Ballroom. And he's bringing along several DJs and performers affiliated with Star 69 Records, his dance label.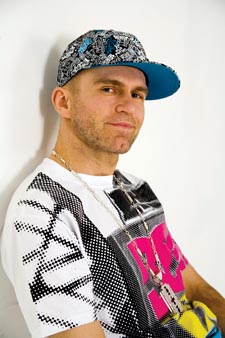 Peter Rauhofer
(Photo by Aaron Cobbett)
"I just want to make it as impressive as possible," says Rauhofer about his "We Can" party scheduled during a weekend when a million or more people are expected to be in town celebrating the 40th Anniversary of Stonewall and the birth of the gay rights movement.
One of dance music's leading DJs and one of the genre's first Grammy winners for remixing, Rauhofer is a popular pick to spin gay parties everywhere, including D.C.'s Cherry. But Pride is special, says the DJ, who just returned from spinning a big Pride party in Sao Paolo as well as Orlando's Gay Days. "Pride is the day when the gay community shows to the world that we are a big community."
When naming this year's party, Rauhofer claims he wasn't specifically referencing the Obama campaign's successful use of the phrase. "But yeah, I think 'We Can' for a Pride title is appropriate. We're going to fight until we achieve gay marriage and other issues."
DJ Paulo will open the party at 10 p.m., to be followed by Offer Nissim. Rauhofer's set will break the dawn, and Oscar G will close around 10 a.m. Maya, Kevin Aviance and Lena Love will perform between DJ sets. "It will be a very big production," says Rauhofer.
The "We Can" party takes place Saturday, June 27, from 10 p.m. to 10 a.m. at New York's Roseland Ballroom, 239 W. 52nd St. Tickets are $80. Visit www.wantickets.com or www.star69records.com.