"You know, when the blistering draught scorches the earth's surface, it has to cover itself with clouds to do a repair job. And that's what we're doing here," says RuPaul Charles of the Obama Administration's efforts to right the wrongs of the past decade, particularly with the economy and national security. "Hopefully it will happen in lots of other areas. Forget gay rights, women's rights, black — it boils down to human rights and how kind are we going to be to ourselves."
RuPaul — the nation's leading drag celebrity is known almost exclusively by first name only — is preparing to take the stage as the headline entertainer for the Capital Pride festival on Pennsylvania Avenue. It's fitting that he comes to the nation's capital with a sense of optimism, not just with the country's new political direction but also with today's LGBT youth.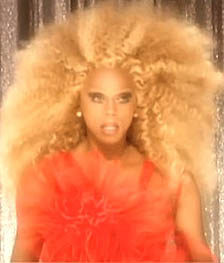 Lip sync for your life: RuPaul
"I love the fact that the young kids are really breaking down the walls and making sure that shame is eliminated," he says. "The reason we have to have Pride is because there's [still] so much shame in following your heart. Religion and politics and culture all instill this shame in us. Young people that I know, there's very little shame in their game and that's diminishing. That makes me feel very optimistic about the future."
At 48, RuPaul also has reason to be optimistic about his future. LOGO, MTV's gay channel, has signed on for a new season of the hit show RuPaul's Drag Race, in which he stars as host and mentor to competitors aspiring to be the "Next Drag Superstar." Shooting for the second round of competition, with a fresh crop of competitors, is set for July for a season debut in January 2010. This year, RuPaul will also host LOGO's second annual NewNowNext Awards.
RuPaul came to fame as a singer, chiefly with 1993's delightfully campy dance album Supermodel of the World. The album's first single "Supermodel (You Better Work)" was a surprise hit on MTV, and many of its tracks got frequent play in gay bars and dance clubs.
Earlier this year, RuPaul self-released a new dance album Champion. Music from that set, including first single "Cover Girl," is prominently featured in his LOGO show.
RuPaul became a spokesmodel for MAC cosmetics some 14 years ago. "I am the MAC girl," the advertising announced. What he isn't, or at least struggles not to be, is a material girl.
"It's hard to stay centered in a world that tells you that you're not really clean unless you're Zestfully clean, or in a consumer world where you're taught that you have to have material things to have value," he says. "That's a challenge. So my challenge is to love me whether I have designer things or luxury items or not."
RuPaul hesitated for years to sign on to do a drag reality show. But he knew Randy Barbato and Fenton Bailey well enough to know he could trust them. The team behind such movies as Party Monster and The Eyes of Tammy Faye, Barbato and Bailey had worked with RuPaul on several occasions, most notably VH1's RuPaul Show in the mid-1990s.
"I have a blast with them," says RuPaul. "We have the same sense of humor, it's so much fun."
He gets frustrated by American culture's stubbornness when it comes to issues of gender, fixed as it is on a binary construct: all male or all female. In 2007, he lamented in Wikinews that our culture refuses to get the differences in gender expression, between drag queen and transgender.
"Some people won't understand the difference between a transvestite and transsexual," he says. "They will not understand that no matter how hard you force them to, because it will mean deconstructing their whole belief system."
He hopes more people are beginning to realize we're all similar — that, actually, we're all one.
"For each human on this planet, it really gets down to when are you going to accept all the elements of who you are? Because each person you look at represents a part of yourself. If you're going to hate on someone, you're really hating on yourself, literally. Stop hating yourself."
Or, as RuPaul has said repeatedly on his show: "Remember, if you can't love yourself, how in the hell you gonna love somebody else?"
RuPaul will headline on the Mainstage at the Capital Pride Festival on Sunday, June 14.
RuPaul will also appear on Friday, June 12, at Town Danceboutique, 2009 8th St. NW. Advance tickets are $20 and available online at www.grovetickets.com. Call 202-234-TOWN or visit www.towndc.com.