"Red versus blue, which are you?" It's not a reference to your political affiliation. And it's not a question of whether you're mad or sad. It's the tagline for a party that Town Danceboutique presents next Friday, July 3. To usher in America's 223rd year of independence, Town encourages patrons to dress up in the two colors of the Stars and Stripes. Red drinks and blue drinks will be served, and there will also be contests throughout the night, with the winning color "team" earning a free drink.
But that's just one of several special events being thrown around town over this year's long holiday weekend. Friday, July 3, has been designated a federal holiday, so it's a day off for most. To help kick it off, on Thursday, July 2, starting at 9 p.m., EFN Lounge becomes a "country western paradise," with drag queen Destiny B. Childs playing Carrie Underwood. This Stomps and Stripes Forever party will help usher in the IAGLCWDC's Hoedown 2009, taking place all weekend at the Hyatt Regency on Capitol Hill. That same night, the Green Lantern hosts its popular Shirtless Men Drink Free event, from 10 p.m. to 11 p.m. From midnight to 1 a.m., after its regular best-package contest, the bar will offer "late night happy hour" discount prices.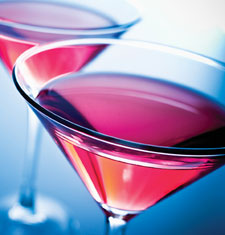 Meanwhile, Town launches a new monthly Thursday night party, dubbed "WTF?" DJ Natty Boom, Summer Camp and Ed Bailey will all spin at this party, intended to bring together everyone. "We're trying to take it back a little to an early '90s club-kid era of craziness," says Bailey. "What some people romanticize about Tracks." Town has also teamed up with the alt-queer party Taint at DC9, which will throw a Lady Liberty Taint that night. A $8 wristband provides access to both parties. Cover is $5 each otherwise.
On Friday, July 3, DJ Ecstasy spins at one of the busiest nights of the year for D.C.'s preeminent gay Latin night, Fuego, at Aqua, which will also feature $3 tequila shots and $3 Coronas. Meanwhile, the DC Eagle helps the Boys of Leather kick-off its 10th Anniversary weekend with a cookout from 5 p.m. to 8 p.m. And starting at 9 p.m., the Black Cat hosts Homo/Sonic, The New Gay blog's alternative queer dance party. Cover is $10.
Phase One throws a BBQ on its outdoor patio Saturday, July 4, from 3 to 9 p.m., with a cover of $10. Meanwhile, Brookland's swanky new women's nightclub Lace hosts a picnic Saturday afternoon, followed by Jai Syncere and WPGC personality DJ Heat spinning in the downstairs nightclub, which will also feature "firecracker drink specials."
After Saturday's fireworks on the National Mall, DJs Matt Bailer and Shea Van Horn spin another edition of the monthly alt-queer dance party Mixtape, this time at the large Rock and Roll Hotel in Northeast. The cover is $5, and drink specials until 11 p.m. include $5 Red Bull & vodka and $3 rail vodka. EFN offers "Red, White & Blackout," featuring Petey Pig from Mr. Black's in New York and a kinky swimsuit competition. Boys wearing swimsuits get in free; everyone else pays a $5 cover.
Cobalt launches a new monthly Latin party called Furioso, or "red hot." The club will feature $4 margaritas and Cuba libres, $3 Mexican beers, and $5 shots of 1800 tequila. Cover is $5 before 11 p.m., $8 after. In Baltimore, local DJ Vince Christopher helms the Saturday night party at Club Hippo. Cover is $5. Afterward, the mixed-gay/straight after-hours Club 1722 throws a party with a veteran D.C. DJ, "Red, Randy White & Blue."
And on Sunday, July 5, Freddie's Beach Bar presents still more fireworks, with a patriotic drag show led by Destiny B. Childs and featuring special guest, drag doyenne Ella Fitzgerald.
Of course, your other favorite haunts will be open and festive even if they're not featuring any holiday specials. From Nellie's roof deck, you can see fireworks — and maybe, from its western edge, even the national fireworks display, set for Saturday at 9:10 p.m. If you prefer a/c comfort, you can still throw back $4 Skyy highballs or $3 Coors Light at JR.'s. At Omega, you can still ogle the Men of Omega go-gos dancing Friday and Saturday nights at 10:30 p.m. You can still enjoy the Saturday splendor of Ella and her Ladies of Illusion at Ziegfeld's and the, er, firecrackers on the nude male dancers at Secrets. You can partake in a 2-4-1 Saturday night Happy Hour from 5 to 9 p.m. at Halo or two-step your countrified hearts out over at Remington's. And you can still see Kristina Kelly and the Girls of Glamour — or hit Michael Brandon's Caliente party in the East Wing Dance Lounge — as part of Under the Big Top, the regular Saturday night party at Apex.
Happy birthday, America. Bottoms up!