There's something for everyone at the 34th Annual Capital Pride, from nearly 100 contingents marching in the Parade, to a Festival stage featuring lesbian rocker Melissa Ferrick, drag sensation RuPaul, and a nearly endless array of local artists.
"I think we have a little something for everyone," says Dyana Mason, executive director of Capital Pride. "I think it really is going to be an exciting and wonderful lineup."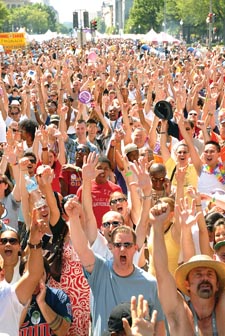 Capital Pride attendees from 2008
(Photo by Randy Shulman)
That festival lineup will play out Sunday, June 14, from 11 a.m. to 6 p.m. on three different stages on Pennsylvania Avenue on Sunday: the main stage; the Stonewall Stage, featuring mainly dance music and drag performers; and the Art's Corner Stage, organized by the GLBT Arts Consortium and featuring the Gay Men's Chorus of Washington and D.C.'s Different Drummers, among others.
Organizers of Capital Pride are also proud to present the "family section," debuting at this year's Festival.
"That's going to be where folks can come and bring their kids and enjoy a 'moon bounce' and other activities," says Mason.
While the entertainment and entry to the Parade and Festival are still offered at no cost, organizers are encouraging attendees to donate between $2 to $5 at the Festival.
"That helps us cover some of our costs for this year, as well as helps us with 2010," says Mason, adding that she's most excited about the Festival "capping off" an entire week of events.
Those events include the Parade on Saturday, June 13.
Eric Reader, Capital Pride Parade co-chair, has been planning for this year's Parade since the last contingent completed the route in 2008. He's not missing a single detail this year, haunted by the Capital Pride Planning Committee's 2008 float never making it to the Parade due to a technical problem.
But that didn't deter Reader from doing it all over again, prepping for the Parade that kicks off at 23rd and P Streets NW at 6:30 p.m., and ends at 14th and N Streets NW, on Saturday.
"We're going to have a float again this year. It's going to be a little simpler than last year's, and this year it will make it out of the parking lot," he says with a laugh.
Reader won't dish on the specifics of the float, building suspense for attendees of this year's Parade. He does, however, say that it incorporates the theme of this year's Capital Pride: "Generations of Pride: Celebrate and Remember — Stonewall at 40."
For those who don't want to get to the Parade early to reserve a spot, organizers of Capital Pride this year are offering VIP seating at the Review Stand, in front of the Whole Foods Market near P and 14th Streets NW, for $40. Seating is also available at the Announcement Stand at 18th Street and New Hampshire Avenue, for $35. The VIP seats also come with a "line jump" for the post-Festival "Pride After Dark Last Dance" at the Hirshorn Museum and Sculpture Gardens, meaning you won't have to wait in line, but you will still have to purchase a $25 ticket for that event.
Parade contingents will be considered for awards in the following categories: Best Theme and Energy, Best Float, Best Marching Contingent, Most Outrageous, and Best Visiting Contingent, come rain or shine.
"It is always 'rain or shine,' unless the weather is so bad that it's dangerous for people to be out," Reader says.
Why join in on the Parade on Saturday?
"Because 40 years ago we weren't allowed to really be out or be active in our communities, as Stonewall showed," Reader says. "We are celebrating the fact that 40 years ago, people stood up and were able to overcome that and were able to be who they were, and out in the community."