When Johnny Sabbat lived with his mother, he wasn't allowed to have gay friends.
"My family didn't approve of my homosexuality because they viewed it as an abomination," he says. "They blamed it on my mom, so she didn't let me have friends who were gay. She didn't let me go out to the gay lifestyle."
But that was the least of Sabbat's problems.
Sabbat, 23, didn't know his father. He grew up living with his mother in homeless shelters before living with his aunt. At 20, he found out that he had contracted HIV by having unprotected sex.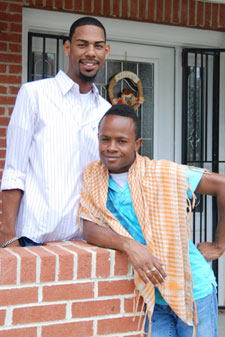 Brian Watson and Johnny Sabbat (right)
(Photo by Todd Franson)
With no place to call home and no support system to help him deal with his HIV status, a friend at the Unity Fellowship Church, DC, suggested Sabbat apply for a spot in the newly built Wanda Alston House.
The home was built last year, and named after the first permanent mayoral liaison to the GLBT community, who was killed in 2005. One of just a small handful around the country, it's the District's only transitional home specifically for homeless GLBT youth, ages 16 to 24. The house, a program of Transgender Health Empowerment (THE), opened a year ago and welcomed its first residents last September.
"We've been full ever since," says Brian Watson, director of programs at THE. "We've had a waiting list since December."
That waiting list currently includes more than 100 people hoping to get into the home.
Sabbat was lucky to be among the first group of residents, who are given 18 months to use the opportunity to get back on their feet.
"I probably would be homeless if the house wasn't here," he says. "I probably would end up prostituting for money. I know me, and that's what I would be doing just to get some money to make it through the day-by-day."
Instead, Sabbat lives in the Northeast home and works for a downtown arts group where he creates papier-mâché pieces, and is involved with the group's poetry slam. Since moving into the Wanda Alston House, Sabbat has discovered another art form: drag. He occasionally performs as "Sunset" at venues such as Omega DC and Phase 1.
"He's really gotten more active in the community," Watson says. "He's doing things around HIV, his church, and just learning how to interact more with other people. In the house, the residents are able to experiment and kind of figure themselves out.
"Johnny and a lot of residents at the house have had hard, difficult lives. When they're at the house, they don't have to focus on a lot of those more stressful things that they had to deal with when they lived with their parents or relatives or whatever the case may be."
As in any good home, there are rules to follow.
The curfew is 11 p.m. every night except Fridays and Saturdays, then it is 2 a.m. Everyone has chores. And when rules are broken, there's punishment, such as mowing the lawn.
The house currently includes eight residents, and six employees serving as housing counselors. Their jobs range from helping the residents with homework, preparing dinner, and talking to them about everyday things.
"They're basically 'house parents,'" Watson says.
On Sept. 9, THE is planning to celebrate the house's one-year anniversary with a reception. But Watson won't be slowing down. There's still work to be done.
With the onerous waiting list, Watson will be advocating for more projects similar to the Wanda Alston House.
"I'm working right now with the [D.C.] Department of Health, and [the Sexual Minority Youth Assistance League], because since we've opened the house we've seen a severe need for mental-health services around LGBT youth and for people who are trained to work with LGBT youth."
There's also obviously a need for more housing services for GLBT homeless, both immediate and transitional, Watson says.
On Friday, July 17, he testified at a hearing on behalf of THE to D.C. Councilmember Tommy Wells (D-Ward 6), who is the chairman of the Human Services Committee, regarding shelter capacities in D.C.
"I went to speak because throughout the year that I've been working with the Wanda Alston House, I see more and more — not just the LGBT youth that are underrepresented — that LGBT people in general are not represented when it comes to being at the table when decisions are made around housing.
"While we do have the house, it is transitional, and it is long term. What we need right now are emergency-shelter beds, because someone may become homeless at 1 o'clock in the morning, and they can't come to THE because our house is full and, again, transitional."
Watson says that if THE was able to provide "shelter" beds, they could help homeless GLBT youth who need immediate help. At present, there is no group offering emergency shelter specifically for GLBT youth, who are reported to need emergency housing in disproportionately higher numbers than heterosexual youth.
Still, Watson takes time to reflect on the success of the Wanda Alston House, rather than dwell on the needs that surpass what help is available.
"The fact that we have youth there, that we have a waiting list, that we've had people who have moved out and are now in stable housing, or are getting their GEDS or high school diplomas, or are employed now, shows me that the house is serving its purpose."
For more information about Transgender Health Empowerment's Wanda Alston House, visit http://thewandaalstonhouse.com, or call 202-636-1646.