The news of Desi Deschaine's death spread like wildfire Tuesday morning in both the real and virtual worlds. By noon, July 14, there were more than a hundred posts to his Facebook page, rapidly becoming an online memorial. The apparent drowning of Deschaine, a 29-year-old gay Washingtonian who served as director of communications for Councilmember Jack Evans (D-Ward 2), has stunned the District's gay community and beyond.
"We're just in shock, totally in grief," said Jeff Coudriet Tuesday morning, who worked with Deschaine as committee clerk of the City Council Committee on Finance & Revenue, which Evans chairs. "He was always involved, incredibly good-natured. I can't think of anybody who doesn't like Desi. He really loved the notion of public service."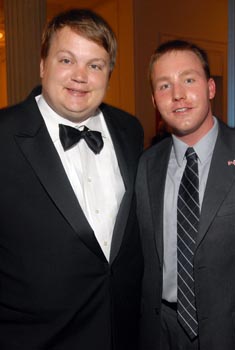 Desi Deschaine, right, with Christopher Dyer, at a May 15, 2009, Whitman-Walker Clinic fundraiser
(Photo by Ward Morrison/file photo)
Deschaine spent Sunday, July 12, boating with friends in Baltimore's Inner Harbor, but went missing after walking off the boat Sunday evening, friends say. Baltimore Police confirmed Tuesday that a missing-person report had been filed, but would not confirm that a body found in Baltimore Harbor was Deschaine's. Community activist Phil Attey, who knew Deschaine, however, said Tuesday that he'd spoken with Deschaine's family who confirmed the body was Deschaine's.
Deschaine, who moved to Washington from Bristol, Conn., in 1997 to attend Catholic University, expressed his love of the city and of community involvement in an interview with the Small Friendly Planet professionals network while serving as former Mayor Anthony Williams' community outreach coordinator for Wards 1 and 2.
"I spent every summer in college living and working in D.C., for I knew that this was the place where I was going to make my home," he said, crediting a summer in Guatemala when he was 15 helping poor and homeless children as a turning point in his life. "[W]e are one people, whether we are white, black, Hispanic, male, female, young, old, gay, lesbian, rich or poor. This city belongs to all of us and we all have a stake in what is going on in our city. We all have a duty to get involved and to make a difference."
The difference Deschaine was making went beyond his job with Evans' office, to include the D.C. Young Democrats, the D.C. Democratic State Committee, and serving as vice president of the Logan Circle Citizens Association.
Jeffrey D. Richardson, president of the Gertrude Stein Democratic Club, a GLBT organization of which Deschaine was a member and among the District's most influential political clubs, released a statement Tuesday afternoon emphasizing Deschaine's legacy of community involvement.
"Desi Deschaine was a bright and shining star in the D.C. Democratic Party and in the D.C. activist community," Richardson wrote. "Desi involved himself in every sector of D.C. society and loved to build bridges and facilitate connections across communities. Desi will be missed, but through the joy he shared with us and his deep commitment to the District, his spirit will live on."
Mario Acosta-Vélez, Richardson's predecessor as Stein Club president, remembers meeting Deschaine a few years ago when they were both new to the club. Acosta-Vélez, hearing about the death earlier Tuesday when it was announced during a City Council Committee of the Whole meeting, said the District lost the immeasurable potential of a young leader.
"He would've continued to make great contributions, I have no doubt," he said. "It's a tremendous loss for us. … We lost one of our most passionate and committed leaders. He wanted to reach out to different aspects of our community and bring them together. And everyone wanted to be around him."
Similarly, in a statement released by Evans' office, the councilmember says, "Desi Deschaine was a bright, bubbly, enthusiastic, and wonderful person who you just could not help but love. I had the great pleasure of knowing and working with him not just on my staff, but on my campaigns and over the years with Mayor Williams' staff…. He brought passion, energy and good spirits to everything and everyone he touched over the years. My staff and I share the grief of and extend our condolences to Desi's family and friends, and deeply mourn his untimely loss."
Small consolation for those who will mourn Deschaine may come from knowing that he spent his last day doing what he enjoyed. His last Facebook update, posted 11:43 Sunday morning, July 12, reads: "Desi Deschaine is getting ready for an amazing day boating in Baltimore Harbor and the Chesapeake Bay on J'aime's [Huret] boat and hope our friends join for what will be an awesome and amazing afternoon on the water!!"
An impromptu vigil has been announced to remember Desi Deschaine, to be held in Logan Circle, tonight, Tuesday, July 14, from 7:30 to 8:30 p.m.