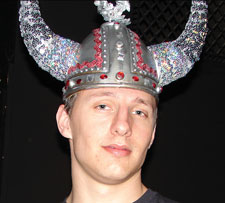 "The story is, like all Gilbert and Sullivan, very silly," says Jill Strachan, executive director of the nonprofit Capitol Hill Arts Workshop, of Iolanthe. "Some people think it's their silliest one." The title character falls in love with a mortal, a crime in fairy culture, usually punishable by death. Instead, the popular Iolanthe starts a trend, and by the comic opera's end, the fairy queen gives her blessing.
In partnership with the GLBT Arts Consortium, CHAW is producing a version of the show, first staged in England in 1882, that may be the silliest yet. This production features a cast of 16 volunteers from the area and the community at large, with a focus on gender-neutrality. "Some of our fairies are men, some of our [mortals] are women," says Strachan. That's true even of the fairy queen, played by a man "out of drag."
Every summer Strachan co-directs with choreographer Alvin Mayes a different Gilbert and Sullivan production for CHAW, from Pirates of Penzance to H.M.S. Pinafore to Strachan's favorite, The Mikado. Net proceeds from the show benefit CHAW and the Consortium.
Friday, July 31, Saturday, Aug. 1, Friday, Aug. 7, and Saturday, Aug. 8, at 7 p.m. Also Saturday, Aug. 1, and Saturday, Aug. 8, at 3 p.m. At 545 Seventh St. SE. Tickets are $20. Call 202-547-6839 or visit www.chaw.org.