The D.C. metro area is home to some of the most beautiful mountains and rivers on the East Coast. Virginia's Shenandoah National Park has some of the most popular hikes in the region, and the Chesapeake Bay offers great sailing. But those sites are far away, sparsely peopled, and filled with scary critters — characteristics that strike fear into the hearts of locals who won't tread too far out of downtown Silver Spring or out of the shadow of the Capitol dome.
How are the OFF!-addicted, pollen-allergic, bona fide D.C. cityfolk to get their sunlight? Where can urbanites trade cockroaches for mosquitoes, rats for possum, cabs for deer, and still break a sweat outside the gym?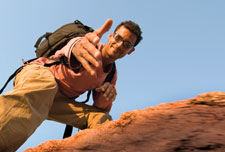 Craig Howell, a coordinator for the D.C.-based gay outdoors group Adventuring, promises hope.
"Inside the District, there are equestrian trails, bike trails, hiking trails, all kinds of things," he says, adding that Rock Creek Park is not the only option for outdoor activities.
For the insect-phobic, Adventuring offers periodic "urban hikes," treks through D.C. streets and parks. The group recently did a Civil War hike, starting at the Tenleytown Metro Station and ending at Fort Totten, stopping at about a half dozen Civil War sites along the way.
"I'm a big Civil War geek," says Howell, "and there are some great hikes through the city, especially in Anacostia, that pass through some old forts."
The group also recently hosted a hike across the entire District, starting at the Arlington Cemetery Metro and heading along East Capitol Street to the easternmost point of the city, trading sights of Sugarloaf Mountain for a good look at RFK Stadium.
Of course, hiking is not the only option, and some excursions are even better in the city. Washington Women Outdoors periodically offers an activity called "geocaching," a sort of GPS treasure hunt, in the city limits of Alexandria.
There's also plenty of good biking within city limits, says Scott Binde, a cycling coordinator for Adventuring.
"A lot of people only bike in mountains or woods," says Binde, "but there's some great scenery in the city."
Great scenery like national monuments which, Binde says, are a lot of fun to visit on a bike. He recommends Adventuring's "Monuments and Memorial Ride," a 14-mile trek centered around the National Mall.
He endorses the District of Columbia Bicycle Map, published by the District Department of Transportation and showing the network of bike trails and paths in the city and surrounding suburbs.
DDOT has an entire bicycle program complete with a "Bicycle Master Plan" of existing paths and future improvements, and the Washington Area Bicycling Association offers inexpensive maps of regional trails. WABA is also holding the upcoming "50 States Ride," which "covers all 50 state streets in all 8 Wards in search of the District of Columbia's statehood."
Of course, intrepid urbanites need not limit their exploration to land, as Washington Women Outdoors can tell you. The group offers an annual Moonlight Sea Kayak trip through the marshes outside Old Town Alexandria after the sun goes down, and periodic rowing lessons in the Anacostia River.
Howell says that locals should consider "outdoorsing" with a gay group.
"I hike with other groups, with straight groups, as well," says Howell, who's also a member of groups such as the Potomac Appalachian Trail Club, which is responsible for maintaining more than 1,200 miles of trail. "The camaraderie is a lot better in a gay group. The humor is going to be different in a gay group. Gay people definitely like to socialize with other gay people. It's always more fun to hike with a gay group."
And don't forget the pragmatic bonus of going gay:
"If you're single and want to meet someone, it's a great way to do it besides bars or clubs," says Binde.
For those looking to go it alone, the National Park Service Web site lists a bevy of parks and historical trails within the District that are maintained by the government. Among its offerings is the Thompson Boat Center in Georgetown, which rents inexpensive canoes and kayaks for use around the Georgetown Channel.
The boats can also be rowed to Theodore Roosevelt Island, a park in the Potomac River between D.C. and Virginia with a large monument to the conservationist president. The island is closed to cars and bikes, and can only be reached across a long footbridge from Virginia or by the river.
And, as with other outdoor excursions, "go it alone" doesn't necessarily mean alone — both kayaks and canoes seat two.
For more about Adventuring, visit www.adventuring.org or call 202-462-0535. For Washington Women Outdoors, visit www.washingtonwomenoutdoors.org, e-mail wwo@patriot.net, or call 301-864-3070. For the Washington Area Bicyclist Association, visit www.waba.org. For various District Department of Transportation maps, visit http://ddot.dc.gov/ddot.