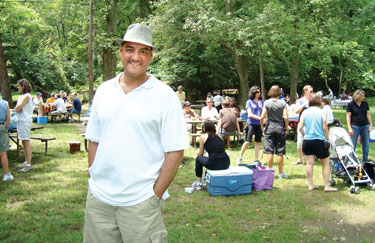 Rob McGuire
(Photo by Yusef Najafi)
Organizers of the second annual "Bring Your Own Everything Family Picnic" were pleased with the comfortably sunny weather on Saturday, July 11. That day the NOVA Gay & Lesbian Professionals joined forces with Burgundy Crescent Volunteers, the DC Ice Breakers and the DC Lesbian Singles at Great Falls National Park in McLean, Va., for a picnic.
"We are here, and if you did not know that we were queer, I don't think you would find any difference between our landscape and many of the other groups that are out here right now," said Marguerite Bardone of NOVA GLP.
"We did a similar joint event at Nellie's Sports Bar, and I was almost afraid we were going to break the deck," she added with a laugh.
At Great Falls National Park, about 15 miles northwest of Washington, there was enough room for everyone to mingle, eat and hike down to the waterfalls of the Potomac River.
"This is people just gathering, enjoying themselves, grilling, making new friends and seeing old ones."
That included Jonathan Blumenthal, president of Burgundy Crescent Volunteers, who celebrated his birthday at the picnic with a big, chocolate cake.
"I think it's great," Blumenthal said of the gathering that attracted about 100 people. "We never know whether it's going to be a huge turnout or a small turnout. Today, it's a nice turnout. I think people are having fun. It's just a nice time to hang out and chill out."
Rob McGuire, one of the organizers of the NOVA GLP group, brought his parents, visiting from Ohio, to the picnic.
"Our group meets throughout the year on Fridays for happy hour, but this is a chance for people to bring their families, their dogs, and include the whole community in one area," he said. "It's basically a relaxing networking and social event."
For more information about the NOVA Gay & Lesbian Professionals, visit www.meetup.com/novaglp; for DC Lesbian Singles, visit www.meetup.com/dclesbiansingles; for Burgundy Crescent Volunteers, visit www.burgundycrescent.org; and for the DC Ice Breakers, visit www.dcicebreakers.org.