Every sport has its hallowed grounds and those few athletes who have the good fortune and great talent to compete on them. In tennis, few grounds are as revered as Wimbledon.
"You walk through the gates, there are beautiful flowers, the set-up of the courts, the players' area," says Rennae Stubbs. "The fans are unbelievable, it's always packed in appreciation for what we do, from start to finish in the day."
Stubbs well knows the feelings that arise from walking onto Centre Court – she's won the Wimbledon women's doubles crown twice, and made the final once more this year with fellow Australian Sam Stosur, where they fell to the sisterly juggernaut of Serena and Venus Williams.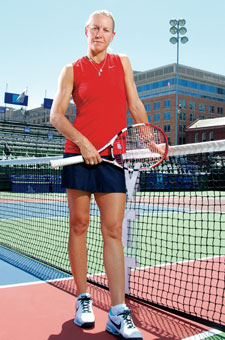 Rennae Stubbs
(Photo by Todd Franson)
With 59 tournament wins, including six grand slam doubles titles, Stubbs at 38 has carved out an enviable career. That experience came to D.C. immediately after Wimbledon when she joined the city's World Team Tennis (WTT) franchise, the Washington Kastles.
Headed up by tennis legend Billie Jean King, the WTT offers a more entertainment-oriented approach to professional tennis, with boisterous fans encouraged rather than shushed and both male and female pros playing together in a team effort. Kastles owner Mark Ein brought the team to downtown D.C. in 2008 – this year the Kastles stadium on the old convention center site will host the WTT finals on Sunday, July 26.
As this issue goes to press, Stubbs and her teammates are playing for a spot in those finals. While Stubbs may enjoy the less stressful nature of WTT, she's not one to take a "half-assed" approach: "We're busting our butts."
Stubbs takes the same approach to her life off the court, where she's earned a reputation as an outspoken player who's also out of the closet. After 20 years on the WTA Tour – and 13 years living in Florida – she's enjoying more than five years with her partner, a former U.S. softball player, and looking ahead to what comes after tennis.
Not too far ahead, though. Stubbs still has work she wants to do on the court.
METRO WEEKLY: You came to Washington straight from Wimbledon?
RENNAE STUBBS: I haven't been home for two-and-a-half months. It's a long haul. And if we make the finals [with WTT] I might not get home for another month.
MW: I'm assuming you're used to that. You've been playing the pro tour for a long time.
STUBBS: Yes. I put my head around it before I go to Europe. I say, "If I have a successful Wimbledon, chances are I won't be able to go home. If we do well in Team Tennis, chances are I won't get home." But we want make the final. We know it's important to [Mark Ein] and the city and to hosting the finals.
MW: What's the primary difference between playing World Team Tennis and playing on the WTA Tour?
STUBBS: There's a significant difference. We're on a team and we're playing for Washington. We're sort of like a basketball, baseball or football team. We play for the franchise and we're playing for our teammates. We're all out here every day. We're exhausted, we're traveling non-stop.
This format lends itself to being the perfect combination of what Billie Jean King has striven so hard for her whole life, which is equality for women in sports and in the work environment. There's not one person more important than the other on this team, whether it's singles or doubles, men or women — that's a significant difference. The other thing is that we get to play in front of a home crowd for at least half the season. We don't get that very often on the pro tour, where we're out there by ourselves — unless we're playing in our home city or country, we're not getting cheered for very much. So you have 3,000 people here on a full night cheering for you. That's a nice experience.
And it's lighter, it's not as stressful. For me as an individual, I'm not paying my bills if I win or lose here. On the tour it's stressful and it's lonely and selfish and all the things that come along with being an individual athlete. Whereas in this environment you're a team, and you win together and lose together for the team.
MW: Has the tour gotten less lonely as you've gotten older and more experienced, as well as after you came out while on the tour?
STUBBS: I'm not really a personality to be lonely. I'm pretty social so I have a lot of friends on the tour and around the world. I've been out here for 20 years, so for me not to have friends scattered around the world is impossible. But there are moments in your day, if you've lost, where you feel very isolated and very lonely just because you feel the whole world is sort of crumbling around you. It's a tough existence to be a professional athlete, because your happiness a lot of times is decided upon on wins and losses, and that's really tough. Anybody will tell you that, even the greats. They obviously win more than the average player does but even when they lose it's devastating. You see when Roger Federer loses [and] he's crying his eyes out in front of the world. Maria Sharapova didn't come out of her hotel room for two days after she lost her U.S. Open title defense.
It's a tough existence out here. It's sort of legalized drug taking, that's how I see it. You have unbelievable highs but incredibly tough lows. For me, I'm quite an emotional person and player and so I really feel the highs and lows. But I also have a lot of great friends so my loneliness hasn't been too bad. I wouldn't be out here for 20 years if it was depressing, let's put it that way.
MW: What is it that makes a player a successful professional instead of just a really good player? Is it a mental difference or a physical difference that puts you and others on the pro tour?
STUBBS: To be honest with you, it's a combination of so many things. I've seen the ones that have made it and why they make it. I've seen the ones who haven't made it and why they haven't made it. I think the biggest singular thing that you have to have as a professional is commitment. You have to have commitment to practice, you have to have commitment to not going out late at night, not half-assing it in practice. You have to have that mental edge to push yourself when you don't want to. You have to have the mental edge to tell yourself to go for it when you're nervous.
It comes down to your decisions in your professional life. I think that pertains to anybody's life in any profession. You have choices and you can go this way or that way. To be a professional athlete you have to make the right choice every time, not sometimes. I see that with the greats. There's never a cutting of corners. It's the way I have to do it. I have to be professional, I have to practice hard, I got to get in the gym, I have to mentally be positive with myself. There are highs and lows but you have to constantly tell yourself you have to get better.
I think a lot of it is mental because you may be physically able to do things, you may have the talent, but you have to have the mental attitude to tell yourself to do those things or get in the gym, or get on the practice court for another hour. The difference in being good and great is the mentality and the commitment to being great.
MW: As a professional athlete who's out of the closet, do you see yourself as a role model?
STUBBS: I came out because I knew that there would be life after tennis, and being gay and playing tennis is not a big deal. There have been a lot of women in sports that have come out and it's not seen as anything wow. But I wanted to always know that once I finished playing my sport that I would be accepted in other things, whether it be television or whatever I decide to do. I would want to get employed by people because they wanted me, not because they wanted some idea of who I was.
As far as a role model, I hope so. I hope that there are young girls or guys out there who think, "It's okay to be gay, she's successful, she can be accepted by people." For me it's normal. It's my life. It's who I am. I always knew that. If I'm a role model for somebody, great. That's not why I came out. I came out really for myself. Because I'm a tennis player, to some certain people I'm a celebrity but I don't want to be that. I want to be me and this is who I am.
MW: I know that the idea of lesbians in sports is not a foreign concept for most people, but it's still a concept that people can be awkward talking about, particularly when you look at media coverage of the sport – it's a topic that tends to get skipped over. Was it difficult for you when you came out on the tour or was it a fairly positive experience?
STUBBS: For me it was incredibly positive. I never got anything but positive reinforcement and positive comments from fans. I think anybody in the tennis community knew already so it wasn't like a big shock for anybody out there. Like I said, it was more for everybody outside of the tennis world to know that this is who I am. My mantra in life is to be honest. I can't lie about anything. So why would I lie about who I am or who I'm with? I'm proud of who I am, I'm proud of my girlfriend and I'm proud of my life. There's no hidden agenda with me. What you see is what you get and everybody that knows me knows that.
MW: Tennis is one of the few sports where the men's and women's events have some measure of parity. But while we have a lot of women players who come out, we don't have any men who come out. Why do you think that is?
STUBBS: Male athletes aren't going to come out because they're going to get ridiculed and they'll be embarrassed. Men aren't supposed to be gay if they're playing sports — it's just the way it is. We all know that 10 percent of those out there who are playing sports are gay. It's life. There's no way that 10 percent, or maybe even higher, are not gay in men's tennis, in football, in basketball, in baseball, anywhere. But they're never going to come out because they're going to get ridiculed and it's just not okay to people. I think it's sad because it does get accepted. We had a football player [in Australia], Ian Roberts, who came out. Great looking guy, built like a typical football guy, had everything going for him, and he came out and nothing really changed for him. We need more people to come out. It's sad, but it will change.
MW: Obviously, you interact with professional male players in tennis. It seems to me that they seem to be fine with the women being out.
STUBBS: Oh, they love us. It's just… I don't know, because I'm not a gay male so I don't know how it feels for them to be in that environment. I would not like to be in that environment. It sucks. I wish that it would be a little more accepted but that's up to the guys to make that decision. Maybe there's one or two that could open up some doors.
MW: I've talked with Martina Navratilova and Billie Jean King about this, and they think it will take a famous player coming out to make that difference. Would you agree with that?
STUBBS: Yes. I think it will take someone who is famous in the U.S. for sure. [Australian Olympic diver] Matthew Mitcham came out but he's as gay as a summer's day. Everybody knew he was gay. His boyfriend was in the crowd and it was great. And he's so loved in Australia because of that. He's so loved period because he's not hiding who he is. But it's a little bit easier [for him] to be seen as gay. It's a sport that's going to be more erring on the side of being gay if you're a diver or a gymnast. But a football player? No way. It'll probably take someone famous like a football player or a basketball player. We've had one or two, like [basketball player] John Amaechi. We need more guys like that to come out.
MW: Do you think more people will be coming out after they retire, like Amaechi did?
STUBBS: Of course. It's all about endorsements. Maybe the gay community needs to get behind the gay athletes and sponsor them and promote them. Maybe it's up to the gay community and the gay companies that support gay and lesbian rights to get behind these athletes and say, "We're here for you. We want to sponsor you. We want to get behind you. We want to promote positive energy in sports."
MW: You do work for Tennis Channel as well as play. Is that difficult to be focusing on two different things when you're in the middle of a tournament, particularly a big one?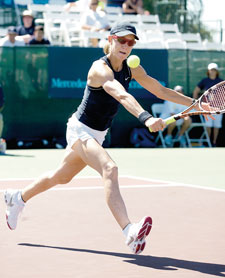 Rennae Stubbs
(Photo by Camerawork USA)
STUBBS: I just was talking to somebody I work with at the Tennis Channel and I said, "It's weird. I didn't do any TV or anything and I blanked out everything else at Wimbledon. I made the [women's doubles] finals, so maybe I need to cut down on my TV schedule." But I also love to do it. I like to talk about tennis, I like to educate the public in why this works and why that doesn't work. I want to do [broadcasting] when I'm done [playing professional tennis] but I'm going to cut down a little bit and just focus on my tennis a little bit more because there's only so much energy I can put into it.
MW: Why do you like doing broadcast work?
STUBBS: I just like to educate the people at home. I love the nuances of tennis. I like to educate people at home about why things happen. Unless you've been in that situation, you don't know how it feels. Why does somebody miss an easy forehand? People think, "Oh, how do you miss that?" Well, I like to teach people at home why: what goes through a player in those moments and what they're thinking cause I know what they're thinking, I know exactly what's going on in their minds because I've been there.
MW: You have had a lot of success on the tour, but there are successful players and then there are the ones everyone considers as the "greats." When you were younger and looking forward to what you wanted to achieve as a pro tennis player, is there a point where you realize "I'm not going to make that level"?
STUBBS: I've exceeded my expectations. I was always a cocky kid who thought I was good at all sports. And I was. I was a good swimmer, a good golfer and tennis player. Sports come naturally to me because I'm a little jock. I was a little tomboy, so why not, right? But also there was that feeling of "I don't know." There are some who just think they're going to be great from the get-go, like Steffi Graf and Monica Seles. I think over time, I realized that I could be really good at what I do and looking back on my career I can't believe how many tournaments I've won. There was a period there when I just wanted to win one tournament; now I've won 59 tournaments and six grand slams. That's ridiculous for me if I was looking back at me being 17. Now looking at it I say, "Well, I could have achieved more if I had believed a little earlier in my career." It is what it is. I accept that I've had a great career. I wish I'd had a little bit more success in singles but I had some injuries. I'm 38 and still playing so I'm blessed, I'm really lucky.
MW: You're still playing professionally at 38. Obviously, Navratilova set the bar a lot higher for having a long pro career.
STUBBS: I am not Martina, I can tell you that right off. I cannot believe that she played till 50. I cannot imagine 12 more years out here. There's no way. It's so taxing mentally and physically. I miss my family, my friends, and that's the thing that becomes tough. When you get older you're like, "What do I really want out of my life?" I love playing. That's why I'm still doing it. I love competing, but in the end, quality of life is really important to me so we'll see. I go week to week. I never make any assumptions on when I'm going to quit any more.
MW: Some people have retired and then come back.
STUBBS: When I am gone, I am gone. I am not coming back. I am very passionate about what I do. I feel like if I'm going to do something I'm going to do it really well. I'm going to do it 100 percent and then I'm out. I'm not going to half-ass anything. So when I stop playing it will be because I want to put my attention into something else.
MW: When you and Lisa Raymond were playing as a doubles team and winning a lot of tournaments, you were also partners off the court?
STUBBS: Yes.
MW: Was that difficult, playing doubles with someone you were involved with?
STUBBS: Looking back at that time, it was unbelievable. We were sharing it together. We won grand slam titles together. It was amazing. It was some of the best, most awesome moments of my whole life to be on the court with somebody I felt that way about and we got to share and talk about it before and after. It was awesome. Not many people have that moment with somebody that they care so much about. So, yes, it was great. Having said that, some of the fights we would have on the court! We wouldn't even speak to each other. We played a tournament in San Diego where we didn't even talk to each other for the third set and we still won it.
But the highs were unbelievable. I don't think people will ever realize how good Lisa and I really were. To deal with what we had to deal with! It's like playing with your brother or sister — impossible, because you just want to kill each other. I don't recommend playing with your girlfriend or boyfriend, I can tell you.
MW: When you make that decision to walk away from tennis and pursue the next thing, are you looking to stay here, are you looking to go back to Australia?
STUBBS: Question unknown. Depends on what I do after playing tennis: TV or coaching, that's all up in the air. Maybe that's why I'm still playing, because I don't know.
MW: What's the biggest difference living in the U.S. versus Australia?
STUBBS: Australians are just more laid back. Big difference. We do a lot more things outdoors, we're a lot less stressed about everything. I say Australians work to get to the weekend whereas Americans work to get ahead. We like to be successful but it's not a thing that drives our lifestyle. We're very much about being chilled out, relaxing, spending times with friends and family. Not that Americans don't want to do that as well, but living here for 13 years it's a different mentality. When my friends go to Australia, they just say, "Oh, it's so laid back here. I love it." It's just a different lifestyle. We're not in a hurry to do anything. Not that we're lazy. We're not lazy at all, but just not in a hurry.
For more information about the Washington Kastles and the World Team Tennis finals visit www.washingtonkastles.com. The WTT Finals will be played Sunday, July 26, at Kastles Stadium, 11th and H Streets N.W. Tickets are available at www.ticketmaster.com or call (202) 4-TENNIS.