Hogwarts homework assignment: Re-watch (or re-read) Harry Potter and the Order of the Phoenix. If you don't, you're going to be utterly lost because there is so much to cram into Harry Potter and the Half-Blood Prince that there's no room to cover what's already happened.
Harry Potter (Daniel Radcliffe) and his wizard friends Ron Weasley (Rupert Grint) and Hermione Granger (Emma Watson) are back for year six of their Hogwarts education. And despite only vague memories of what transpired in the book, it didn't take long to remember that this was the one with all the "snogging," or, in other words, the year of sucking face. A pattern very quickly emerges in Half-Blood Prince: see something sinister, snog, fight off evil forces, snog, go on a dangerous quest, snog. Perhaps it's because the kids are using too much horned-toad in their potions, but no amount of impending doom dampens their hormones!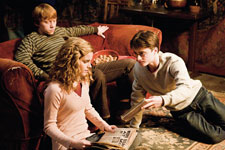 Grint, Watson and Radcliffe in 'Harry Potter and the Half-Blood Prince'
When not obsessing over the opposite sex, the gang tries to balance schoolwork and the menace that is Voldemort and his Death-Eaters. The inspiration for the title – the mystery of who was the Half-Blood Prince – is given only the briefest of time on screen. The heavily annotated potions book that Harry carries throughout the film, so central to the novel, is often no more than a passing reference just before it's needed in the story.
But screenwriter Steve Kloves had a nearly impossible task trying to condense J.K. Rowling's humongous book into a two-and-a-half-hour film without the use of magic. Corners had to be cut, and the choices that were made were interesting ones, indeed. Perhaps all the snogging, which admittedly provides great moments of levity, is designed to balance the otherwise dark moments that shadow Harry's life. Or, more cynically, maybe the emphasis on the love story is designed to keep the teenaged girls coming back. Either way, the film's PG rating ensures that the young wizards get no further than first base — or whatever the equivalent is in Quidditch.
As quickly as Harry, Ron and Hermione are growing up, Radcliffe, Grint and Watson are clearly outpacing them. Fortunately, over the years Radcliffe and Watson have developed a real chemistry, and several of the more touching scenes are between the two as they discuss romantic frustrations. However, it's when Harry and Ron are under bewitching spells that Radcliffe and Grint really shine. Their comedic timing is well done and outshines their attempts to show fear or anger.
New professor Horace Slughorn (Jim Broadbent) takes center stage in the film and pushes all the other teachers to the back of the room. Professor McGonagall (Maggie Smith) and Hagrid (Robbie Coltrane) barely make appearances, and Professor Dumbledore (Michael Gambon) is wheeled out on occasion to move the plot along. Fortunately, Broadbent does a fine job as the new educator, a highly flawed man concealing a dark secret.
No one in the film even comes close to Helena Bonham Carter as the evil Bellatrix Lestrange. Granted it's a great, sinister part, and she usually succeeds in this type of role, but Bonham Carter manages to increase the creep-factor by 10. And with Voldemort not even making an appearance in the film, Bellatrix is the embodiment of evil throughout.
Director David Yates, who helmed Order of the Phoenix and will direct the two films that comprise book seven, Harry Potter and the Deathly Hallows, succeeds in creating some great visual moments. Though it's usually the little touches of magic — books returning to shelves on their own, a cake topper skating in circles — that are more mesmerizing than the big special-effect sequences that are obviously all computer generated.
HARRY POTTER AND THE HALF-BLOOD PRINCE



AND 1/2 STARS
Starring Daniel Radcliffe, Rupert Grint, Emma Watson
Rated PG
153 Minutes
Area Theaters
In the end, what's toughest about Half-Blood Prince are the transitions. It's like skipping a class and being behind the next time you walk into the lecture hall. All of a sudden you're in a different scene and are not sure how you got there and what you've missed. Given the length of Half-Blood Prince, it's obvious why there isn't time to dally between classes, but a little help with directions would go a long way.
At Hogwarts, marks are based on Ordinary Wizarding Levels (O.W.L.s) in preparation for the Nastily Exhausting Wizarding Tests (N.E.W.T.s). Unfortunately, Half-Blood Prince only skates by with an Acceptable O.W.L. While this one perfectly sets up the climactic two films, it's a little too early to be suffering from senioritis. Ultimately, this Harry Potter isn't N.E.W.T.-worthy because it lacks something inherently magical.