There's this amazing detail in sounds and colors and orchestrations that you just really don't hear in the movie theater anymore," says the National Symphony Orchestra's Emil de Cou of the 1939 classic, The Wizard of Oz. But beyond Harold Arlen's famous tunes, especially "Over The Rainbow," chances are you don't remember much of the Oz score. "It's very easy to not even notice it that much," says de Cou, who serves as the NSO at Wolf Trap Festival Conductor. Because of the old technology used in recording, a viewer can't fully appreciate the score watching the movie now — even on a good sound system.
Except, that is, every few years when de Cou conducts the NSO as the film is projected on stage. He'll do that for the third time next Friday, July 24.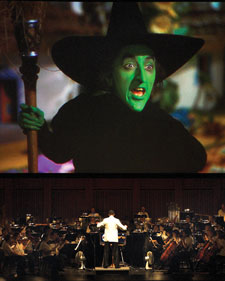 "Wizard of Oz" at Wolf Trap
"It's hard because the orchestra can't hear the singing," says de Cou. "If you're off by even as much as half a second, it sounds horrible."
Originally created by MGM Studios as a profit-making vehicle, The Wizard of Oz has become part of America's "collective consciousness." It appeals to a wide mix of people, though de Cou, who is celebrating 25 years with his partner, is keenly aware of its gay appeal.
"[Dorothy] accepts as friends three male figures who don't fit in. [She accepts them] as equals regardless of their perceived flaws or weaknesses," says de Cou. "And all of them go to this place where they can somehow be happy. Just that hopeful fantasy that you can be who you are."
The NSO performs to The Wizard of Oz on Friday, July 24, at 8:30 p.m. Wolf Trap, 1645 Trap Road, Vienna. Tickets are $20 to $48. Call 703-255-1900 or visit www.wolf-trap.org.